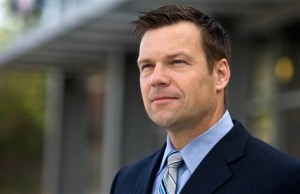 Birtherism, the Frankenstein monster of contemporary American politics, has risen again in Kansas, where the secretary of state is arguing that President Obama's name could be taken off the ballot because there is not enough evidence about his birth. Kris Kobach, the Kansas Secretary of State, who happens to be an informal advisor for Mitt Romney's campaign, said it is not a "frivolous objection" to raise the birth certificate issue.
RELATED: AZ Sect. Of State Threatens To Remove Obama From Ballot Without Birth Certificate Verification From Hawaii
Kobach said that he and other members of a state board in Kansas are weighing whether or not to let Obama's name stay on the ballot in November.
The board is looking at a complaint filed by Joe Montgomery, of Manhattan, Kan., who claimed the Obama is not a natural born U.S. citizen and so is ineligible to be president. The man appears to be part of a group of conspiracy theorists known as "birthers," who deny Obama's birth certificate is real.

Late Thursday, Kobach told TPM in an email conversation that he made his "frivolous objection" comment at the end of the meeting and was responding to a specific question.

"A 'frivolous' argument, in legal terms, is one that cannot reasonably be made under any circumstances," Kobach wrote. "The objection passed that very low threshold, which is not saying much."
Kobach did not say whether or not he believes the president was born in the United States, but has reached out to Hawaii, Arizona, and Mississippi for documentation of Obama's birth.
h/t TPM
Have a tip we should know? tips@mediaite.com
Josh Feldman - Senior Editor