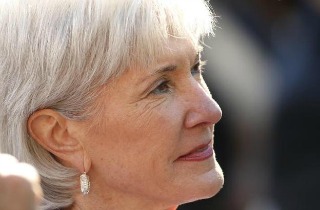 Before she was President Barack Obama's embattled Health and Human Services secretary, tasked with overseeing the initial stages of the implementation the Affordable Care Act, Kathleen Sebelius served as the governor of Kansas. With her time in the administration behind her, reports indicate that Sebelius is openly contemplating a return to politics in her home state via a challenge to Sen. Pat Roberts (R-KS).

The New York Times reports that Sebelius is "weighing revenge" against Roberts, a Sebelius family friend who reportedly wounded her when he accused her of "gross incompetence" as HHS secretary.
Roberts, who is currently running for a fourth term in the upper chamber of Congress, saw his job approval rating dip following a the report that he did not actually own a home in the state which he represents in Congress. After that report, the 77-year-old senator drew a primary challenge from a tea party-aligned candidate.
RELATED: Must Reads: Kathleen Sebelius' Legacy Gets a First Draft
"Democrats say that Ms. Sebelius would be their best hope at winning in a tough state, especially if Mr. Roberts loses his primary to Milton Wolf, a Tea Party-backed radiologist who has alarmed mainstream Republicans with some of his actions, such as when he posted gruesome pictures of gunshot victims on Facebook," The Times reports.
Polls presently show Roberts leading Wolf among Kansas GOP primary voters and indicate that Roberts' primary challenger is a flawed candidate. Roberts polls significantly worse against a generic "more conservative" Republican candidate than he does against Wolf, a condition that goes to show Kansas' Republican electorate is ready to send new blood to Washington.
However, the last time Sebelius won a race in Kansas was in 2006, a year in which the political environment heavily favored Democrats seeking national and statewide office. Furthermore, a Democrat has not occupied a U.S. Senate seat from The Sunflower State since 1939.
In spite of Roberts' troubles, Sebelius has an uphill battle if she wants to replace the aging Republican in Washington D.C. But the first step is floating a potential candidacy via "friends" in The New York Times.
[photo via Kevin Lamarque / Reuters]
 — — 
>> Follow Noah Rothman (@NoahCRothman) on Twitter
Have a tip we should know? tips@mediaite.com