Kathy Griffin Has No Intention Of Leaving Sarah Palin's 16 Year-Old Daughter Alone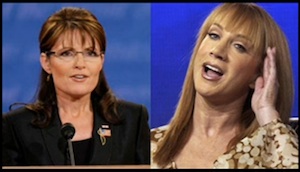 During an appearance on Fox News this weekend Sarah Palin was asked about comedian Kathy Griffin and her frequent jokes/attacks on not just Palin, but her daughter's as well. The former Alaskan Governor called Griffin a "50 year-old adult bully"before requesting that Griffin "leave (her) kids alone." Well Griffin visited Howard Stern this morning, and made clear that she has no intention of leaving Willow Palin out of her "cross-hairs."
The brouhaha between the two has been going on for sometime, but took a more personal turn when Griffin proclaimed her intention of calling out Willow for her alleged calling of a poster a "faggot" on her Facebook page. Griffin explained that Willow is a 16 year-old and, in part because she has a large gay following, she would hold her accountable.
But as Mediaite's Tommy Christopher wrote, even a 16 year-old is not fair game, regardless of her Facebook posting. Christopher opined last year:
There are probably already people who are looking to score points, political or otherwise, based on this story. They are wrong. Willow Palin is a child, and she is not fair game. If this story was not already halfway around the world, I'm not sure we would be reporting it. Since it is, though, putting it into the proper perspective is the only responsible thing to do.
While Griffin clearly relishes the attention from Palin, her response to the challenge to take on the Mama Grizzly was oddly ignored for a reiteration that she would go after Willow, despite the reasoned plea from Palin the elder. Makes one really want Griffin to travel to Alaska and face her nemesis face to face – wouldn't that be an interesting confrontation!
Listen to the clip courtesy of the Howard Stern Show below:
Have a tip we should know? tips@mediaite.com