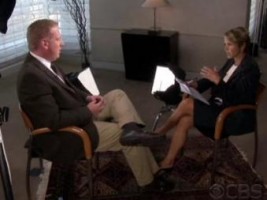 If a 30-second clip can bring about such major attention, imagine what a 44-minute show will do.
The first episode of @katiecouric debuted last night on CBSNews.com with an enlightening, wide-ranging interview with Fox News host and media star of the moment, Glenn Beck. It left both looking better than before.
An interesting exchange took place right at the middle of the interview. Couric, after introducing her first Twitter question, noted that many who responded to her call for questions wondered why she would even give Beck the platform, and that he was "bad for America." Beck responded that his followers had a very similar thing to say about Couric – why would he talk to her, she's "bad for America." It was from these two very different perspectives, that interviewer and interviewee had a very calm, but at times tense, discussion about who Glenn Beck is.
It began with a simple question, paraphrased from the VP debate and Admiral Stockdale: "Who are you, and why are you here?" asked Couric.
"I know who I am, but I don't know why I'm here," said Beck. "I find myself in an incredible place."
Couric also asked early on who Beck envisions himself talking to when he goes on air each night. After some time avoiding a direct answer, Beck said, "They're people who just want to understand what's going. They don't want to hate anybody, they don't want to yell at anybody." While Beck does sometimes make inflammatory statements, the 'yelling' sometimes associated with cable news does not pervade his 5pmET show very often.
Couric got some serious answers from Beck on his own personal political beliefs. He supports gay marriage, but is against abortion. He also opposes a constitutional amendment banning flag burning.
There was one legitimately tense exchange – and a Twitter question is to blame. Throughout the interview Beck would sometimes joke about Couric looking for a soundbite, and his fear of 'getting in trouble' over an answer. But when he was asked to explain what "white culture" is, which was part of his comments about whether Pres. Obama was racist, he began to avoid the question. In the subsequent minutes, Beck explained how his answer, no matter what it was, would be taken out of context and he was falling into a "trap." Couric pushed on, until finally, Beck refused to answer.
It was a moment when Couric shined – and one that those who felt she was too tough on Sarah Palin will point to as indicative of her political beliefs. Instead, she was fair throughout the interview, asking probing questions while maintaining her cool. The comments were split in various directions – some felt she was too easy on him, precisely because she was so calm throughout, listening and responding. This is what Katie Couric does best – getting thought-provoking comments out of newsmakers. But it should not be lost that this interview was double the amount of time she gets for her day job – an average evening newscast. Some will question whether her success here proves there are better outlets for the star.
And Beck supporters can come away feeling their host-of-choice stayed strong in the face of 'liberal media'. He got personal with talk of alcoholism and his mother's suicide. While consistently hitting the point about his attacks on GOP administrations, he tied Pres. Obama time after time to policies bound to fail and appointees that raise questions about the direction Obama plans to take this country. There were several minutes, while he discussed his qualm with czars, that it felt like Beck was explaining to Couric the appeal of his Fox News show. And the multiple plugs for his book, "Arguing with Idiots" – out tomorrow – didn't hurt either.
There will be other newsmaking @katiecouric interviews, but CBS News will be hard pressed to get as much buzz as this one. Someone will say something – a soundbite – that will go viral, but the intersection of the master of alternative media and one of the faces of mainstream media was a fascinating, and legitimately buzz-worthy event.
Other highlights: why Beck thinks liberalism is tied to alcoholism, his major problems with George W. Bush and how Democrats have been co-opted by the uber-left. Watch it all here:

Watch CBS Videos Online

—–
» Follow Steve Krakauer on Twitter
Have a tip we should know? tips@mediaite.com