Katy Tur Wrote an Honest Op-Ed About What Covering Trump for NBC News Has Been Like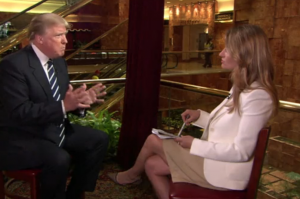 The election of 2016 has blurred the line between celebrity and politician in ways President Barack Obama could never have dreamed of when he did his first BuzzFeed video. Seriously, the guy whose catchphrase on his reality TV show used to be "You're fired!" is the Republican nominee. It's a strange, strange time.
Katy Tur has been there through it all. She has been covering Donald Trump for NBC News since he announced his campaign. Now, in keeping with the blending theme, she's written an op-ed for fashion and lifestyle magazine Marie Claire. Reality stars are running for President. News reporters are being featured in glossy mags. 2016 is one for the books.
Titled, "My Crazy Year with Trump," the piece is an inside look at what it's like to live out of a suitcase and follow a business mogul around the country, "swearing by the lifesaving powers of dry shampoo and the magic ability of scarves to make the same coat look new." It begins with her account of the day Trump identified her at a rally as "Little Katy," called her dishonest, and, depending on who you ask, dog-whistled to his followers that they could go after her for doing her job.
In spite of being called a bitch by supporters passing the press pen and a third-rate reporter by Trump himself, she's continued doing that job, reporting on every up and down in a tumultuous campaign. She kept on keeping on even when she knew it would earn her a rebuke from Trump. (And oh, there have been rebukes from Trump.)
Her entire piece is excellent if only because it shines a light on how unexpected the campaign's success was. She was not even a political reporter when she signed on for the assignment, which she was assured would last no more than six weeks. Her descriptions of life on the road and interactions with rally-goers are fascinating.
Check it out and then watch her on MSNBC later tonight because you know Trump will say or do something that will thrust her in front of the camera again.
[image via screengrab]
Have a tip we should know? tips@mediaite.com