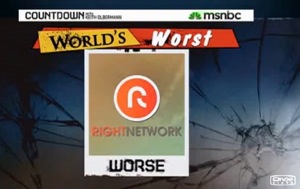 Yesterday we reported that a new, conservative-friendly media outlet called RightNetwork was soon to launch, announcing cable giant Comcast as a partner. But not so fast! Shortly thereafter, Comcast released a statement claiming no such partnership (which we quickly added to our now updated story) making RightNetworks out to be either premature (or even duplicitous) in announcing partnership with Comcast. This gave Keith Olbermann a chance to both rail on some conservatives AND impress his potential new bosses by naming RightNetworks Worst Person!
There is a bit more to the story here however. Yesterday Olbermann tweeted out a link to our initial story, calling it bad reporting (thanks for the traffic Keith!) But it wasn't just Mediaite that reported the Comcast partnership, it was RightNetwork themselves who announced the partnership, which was later picked up by a myriad of sites. Brian Stelter for the NY Times reported that Comcast has nothing to do with the conservative network. However, Stelter also added:
The impression that Comcast is a partner in the venture was supported by the fact that Edward M. Snider, the chairman of Comcast-Spectacor, the company's sports and venues division, was quoted in the document as saying that "we're creating a welcome place for millions and millions of Americans who've been looking for an entertainment network and media channel that reflects their point-of-view."

Mr. Snider is apparently a personal investor in RightNetwork, separate from Comcast.
A small, yet significant distinction. Did Mediaite report the story erroneously? In hindsight, yes we did not have all the facts. And the moment new information became available we updated the story accordingly. The website Crooks And Liars, who had initially reported the Comcast partnership, later came to our defense in a post ostensibly directed towards Mr. Olbermann:
Keith, Mediaite reported the same facts I did, based upon official literature published by RightNetwork, presumably after reading my post. It wasn't bad reporting. It was factual, based upon published and easily-available materials.

I may have caught Comcast's PR department sleeping on the job, but that doesn't make my report inaccurate. It makes it necessary for Comcast to issue a blanket denial, and it makes the RightNetwork sales material presumptuous IF, in fact, it was false.

If RightNetwork's pitch book is false with regard to Comcast, then a deal must be inked somewhere for someone's pipes, or else the authors of the RightNetwork pitch material are simply lying about their triple play content service, which certainly doesn't speak well for their plans to serve content to inspire truth and the American way.

Either way, I stand by my original report on this. I acknowledge Comcast's denial for what it is and will be watching to see whose pipelines are used to serve television, internet and mobile content from RightNetwork.
And all this lead to Olbermann's appropriate admonishment of RightNetwork (and nuanced personal jab at spokesman Kelsey Grammer), a video of which folllows:
Have a tip we should know? tips@mediaite.com