Killer Mike: Geraldo, Blitzer Pandering to 'Audiences of Oppression' in Baltimore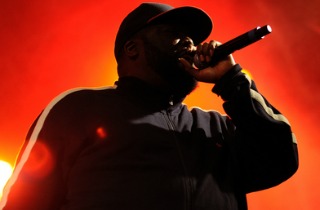 Hip hop artist Killer Mike wrote an op-ed on Billboard today going after the media's coverage of the unrest, calling out Fox's Geraldo Rivera and CNN's Wolf Blitzer in particular. Both men have had their moments during Baltimore coverage, like Rivera's multiple confrontations with protesters, or Blitzer, months after Ferguson, remarking that he hasn't seen anything like this in a while.
Killer Mike first writes about being at the White House Correspondents Dinner when "Baltimore was burning," and says he was shaken up by that.
He goes after Rivera and Blitzer for, as he puts it, "pander[ing] to the audiences of oppression on TV":
Rivera was approached by a very sensible man who said, "Why are you here? Not to cover a calm and peaceful protest — you're here to sensationalize it." Rivera turned his back on him, and at first I thought it was arrogance, but I think it was actually shame. This half-Hispanic, half-Jewish man who comes from two different communities, who knows what poverty and oppression can do, could have said, "I want to know the real story." And Blitzer, as Jon Stewart pointed out, said he never thought he'd see such violence again in America, and he said nearly the exact same words about Ferguson a few months ago. I turned away from the TV with far less respect for him — if I were introduced to him today, I'd walk away. Not because they're evil and bad people, but because they're players in the game that sensationalizes and objectifies this in the worst ways — I don't trust they that they want to see the change.
He also addresses the issue of people rioting, which he says he won't criticize, but does tell the people of Baltimore "after the fires die down: organize, strategize and mobilize."
Killer Mike spoke out at a concert last year about Ferguson, also expressing his empathy for the people there and saying, "I would like to give all thoughts and prayers to the people who out there peacefully protesting. I also give thoughts and prayers for the people who cannot hold their anger in, because riots are only the language of the unheard."
[h/t Jezebel]
[image via Christian Bertrand/Shutterstock]
— —
Follow Josh Feldman on Twitter: @feldmaniac
Have a tip we should know? tips@mediaite.com
Josh Feldman - Senior Editor