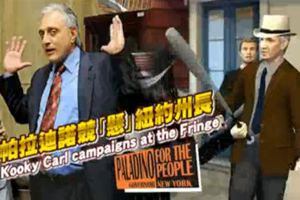 You knew it was going to happen: NMA News, the most trusted name in Taiwanese animations of wacky American news cycle stories, has introduced New York Republican Carl Paladino into their canon. Their version of "Kooky Carl" is a shady Prohibition-era mobster that throws tomatoes at reporters and takes his machine gun out at the slightest provocation.
As they so often do, NMA News has somehow compiled every significant comical gaffe of his campaign so far– the pornographic emails, the fight with the New York Post editor, the homophobic comments, his fixation with opponent Andrew Cuomo's sex life– but recontextualized them to fit their perception of Paladino as an anachronistic bootlegger. This isn't a perception that seems to be particularly prevalent in New York– or nationally, it seems– but they're going with it. They also take a detour from Paladino to depict an awards ceremony where Cuomo receives a medal of honor in sexual prowess from Hugh Hefner.
Of particularly humorous note is "Paladino's" interactions with the "gay community," which seem to be represented exclusively by muscular men in immaculately white briefs gyrating and coming to Paladino's door. His comments on these "gays" seem to get him into some trouble with Bill O'Reilly, who he summarily shoots with his machine gun, naturally (the O'Reilly he shoots, however, is just on his TV screen).
As far as NMA news reports go, this is by far the most racist, given that Paladino really doesn't need to be dressed up in a Fedora and given what looks like an AK-47 to be ridiculous on his own. It's also one of the funniest, because the Italian-American stereotype being used to depict him is about a century old, and Paladino really doesn't fit the Al Capone look so much as that weird uncle you who is sort of nice and means well but spends all of Thanksgiving dinner making weirdly inappropriate comments and making everyone at the table cringe.
The full "news report" below:
Have a tip we should know? tips@mediaite.com