Krauthammer Diagnoses Trump: 'Beyond Narcissism,' Has 'Infantile Hunger for Approval'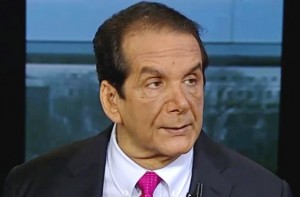 Columnist and Fox commentator Charles Krauthammer is a board-certified psychiatrist, and in a column yesterday, he attempted to diagnose what he thinks is wrong with Donald Trump.
Krauthammer has not been a fan of Trump's this entire campaign season, but he is now questioning his mental state due to his "shocking absence of elementary decency and of natural empathy" in how he handled his response to Khizr Khan.
Trump considers himself a counterpuncher, which might be a sound enough tactic to win a major party nomination, and Krauthammer thinks he knows why:
Trump's hypersensitivity and unedited, untempered Pavlovian responses are, shall we say, unusual in both ferocity and predictability.

This is beyond narcissism. I used to think Trump was an 11-year-old, an undeveloped schoolyard bully. I was off by about 10 years. His needs are more primitive, an infantile hunger for approval and praise, a craving that can never be satisfied. He lives in a cocoon of solipsism where the world outside himself has value — indeed exists — only insofar as it sustains and inflates him.
Lots of people have begun to question Trump's mental state. Krauthammer too agrees there is something "temperamentally unfit" about his character.
He brought up how successfully Ronald Reagan beat Jimmy Carter by showing he could "pass the threshold test for acceptability." Trump, he concluded, "badly needs to pass that threshold. If character is destiny, he won't."
You can read the full column here.
[image via screengrab]
— —
Follow Josh Feldman on Twitter: @feldmaniac
Have a tip we should know? tips@mediaite.com
Josh Feldman - Senior Editor