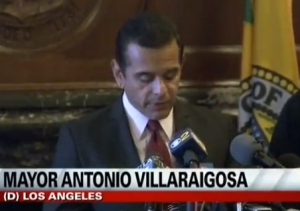 To many public officials across the country, the Occupy Wall Street protestors have overstayed their welcome. The New York protestors have already been evicted from Zuccotti Park, and now Los Angeles is becoming the latest city to issue an eviction notice to its protestors. Mayor Antonio Villaraigosa delivered a statement earlier today warning the protestors to abandon their encampment on City Hall by 12:01 on Monday.
Villaraigosa acknowledged that for the most part, the protest has been "peaceful [and] mostly non-violent," and he stated that unlike in other cities where tensions between politicians, police, and protestors have been high, from the start of Occupy LA, "we've talked to one another and we've listened to each other." And it was in the "spirit of cooperation" that Villaraigosa asked the protestors to depart from their encampment in an orderly manner.
RELATED: Occupy Wall Street's Camp At Zuccotti Park Cleared Out Overnight; Occupy Foley Square Begins (VIDEO)
Since the mayor's announcement, the movement has tentative plans to continue protesting in other locations around the city. One of the protestors involved in negotiations with City Hall spoke to The New York Times about the next step of the protests, "Occupy 2.0."
"The tents are a symbol, no question about it… But it's not only about symbols. It's about getting hard work done and building the movement. Just because we're not at City Hall anymore doesn't mean the Occupy movement has ended."
However, other protestors have indicated they will not leave their encampment until the police come to forcibly remove them.
Watch the video below, courtesy of the Associated Press:
Have a tip we should know? tips@mediaite.com
Josh Feldman - Senior Editor