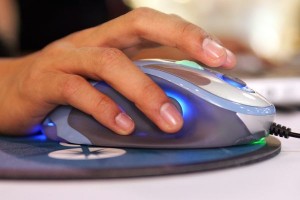 This year's Black Friday was marred by isolated incidents involving pepper spray and near-death experiences over waffles. In West Virginia, a man died in the middle of shopping and eyewitnesses claim that everyone else around him continued to shop, walking around and over his body. So it's perhaps no surprise that every year, a good number of people opt not to be part of the unruly masses and end up looking for good deals online.
And this year, online Black Friday sales jumped 20 percent from last year. According to an IBM executive, online shopping generally makes up 10 percent of all total November sales, but given the boost in sales on Black Friday alone, not to mention a 39 percent increase in online Thanksgiving Day sales, that percentage is expected to increase. However, the Monday after Thanksgiving (Cyber Monday) is generally the day when big companies rake in the most profits from online sales. But the number of people going online yesterday was enough to slow down the sites for Walmart, Toys R Us, and others.
RELATED: Woman Attacks Fellow Black Friday Shoppers With Pepper Spray At Wal Mart
In fact, as USA Today reported a few days ago, more retailers are making an effort to entice potential online shoppers into their actual stores.
The boundaries separating online and in-store shopping are fast dissolving.

Consumers are increasingly doing online research before they head out for holiday gifts. When they get to stores, they're pulling out smartphones and tablets to compare prices and read reviews.

For their part, retailers are both pushing people to their websites — so they can cut back on in-store stock expenses — and using Web-based initiatives, such as free Wi-Fi, to keep shoppers in their stores.
Another way retailers attracted more people to the physical stores this year was by opening earlier. More and more stores opened at midnight this year, allowing younger people to get in line without having to be there at 5 AM.
h/t BusinessWeek
Have a tip we should know? tips@mediaite.com
Josh Feldman - Senior Editor