LA Times: Letters Posted About Japanese Internment 'Did Not Meet Editorial Standards'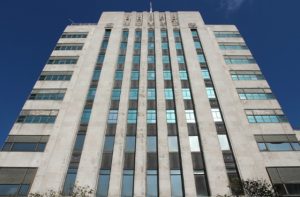 The L.A. Times came under fire yesterday for running two letters to the editor that complained about a piece on Japanese internment camps during World War II. The piece shines a spotlight on how the National Park Service is tackling serious issues of race at places like the site of a past internment camp.
The two letters in question ran under the headline "Were the stories about Japanese internment during World War II unbalanced? Two letter writers think so."
One letter writer said this (emphasis added):
Virtually everyone in the U.S. was assigned jobs to help the war effort. The Japanese were assigned the job of staying out of the way and not causing complications. Millions of Americans were assigned far worse jobs. Hundreds of thousands were wounded or died.

The interned Japanese were housed, fed, protected and cared for. Many who now complain would not even be alive if the internment had not been done.

I salute the Japanese for doing the part they were assigned during the war as I salute all those that sacrificed for the war effort. I have zero respect for those trying to rewrite history just to make themselves feel good.
Another expressed similar feelings:
War is evil, but I would have much rather been interned by the U.S. in California than by the Japanese in their captured lands.

One-way reporting is not very effective for the educated public. Please try a little balance next time. It's a lot more effective and honest.
Well, a lot of people were outraged at the Times for publishing these takes on internment.
The Times piece now has an editor's note at the top that says the letters "did not meet editorial standards."
Times reader representative Deirdre Edgar addressed the blowback today. Times EIC/publisher Davan Maharaj is quoted as saying the letters "did not meet the newspaper's standards for 'civil, fact-based discourse' and should not have been published."
The piece features letters from people outraged at what those two previous letters said about internment, and the Times editor who approved publication explained the decision to do so:
The Times' Travel editor, Catharine Hamm, said she approved publication of the letters thinking that the writers' views, although provocative, would be balanced by subsequent letters of response.

Hamm said that, in retrospect, that was not the right decision, because the views expressed in the letters did not lend themselves to reasoned discussion.
The Times will publish response letters next week.
[image via Tupungato/Shutterstock]
— —
Follow Josh Feldman on Twitter: @feldmaniac
Have a tip we should know? tips@mediaite.com
Josh Feldman - Senior Editor