Fired GEICO Voiceover Guy Lance Baxter Returns to Take Sexist Shot at Freedomworks Employee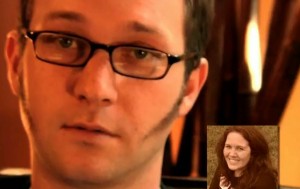 Lance Baxter, the voice actor who was fired by Geico for a nasty voicemail he left in Freedomworks' inbox, is following up his "Teabagger Boogie" with a new ad that takes aim at the Tea Party group's president, Matt Kibbe. He starts out by scoring a few amusing, if simplistic, points on the Tea Party, but it soon becomes clear this is an exercise in personal score-settling when his Kibbe character says he thinks his subtle, side-burn-fueled attempt to get laid "is working on Tabitha."
Who is Tabitha, and why is Lance Baxter flashing her picture as Matt Kibbe's object of lust?
"Tabitha" is Tabitha Hale, director of interactive media at Freedomworks. While she does have an online presence, especially on Twitter, she's not really an "out front" person at Freedomworks. Taking shots at her isn't really the same as mocking Kibbe, or pun-friendly founder Dick Armey.
Despite my complete disagreement with just about everything she says, Tabitha Hale is also a friend of mine. She is incredibly hard-working, smart as a whip, and tough as nails. She probably got an exasperated laugh out of this spot.
It says a lot about Baxter that he's willing to dig so deep to launch such a crass attack on Hale, namely that this has become more about bitterness over the way Freedomworks helped Geico find out about his actions, than any grievances with the Tea Party. It completely undercuts any legitimate points he might have made.
Hale was also part of Right Wing News' conservative new media spank bank earlier this summer, which, for my money, was as sexist as Baxter's crack, but at least they meant it in a nice way.
Have a tip we should know? tips@mediaite.com