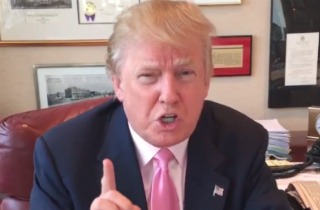 Donald Trump's presidential campaign is already doing some damage to Donald Trump's business dealings. His rant about Mexican immigrant rapists caused Univision to cut all ties Trump, backing out of its planned simulcast of the Miss USA pageant (run by Trump). And despite The Donald's threat of a lawsuit, the damage has already been done (even if one Univision executive did go too far).
And now, the National Hispanic Leadership Agenda––an organization made up of 39 Latino advocacy groups––is publicly calling on NBC to dump Trump too.
NBC, of course, has been happily working with Trump for years on Celebrity Apprentice, but they had to issue a statement distancing itself from Trump's remarks. The NHLA put out a press release yesterday declaring NBC should "follow Univision's lead and both withdraw from airing the Miss U.S.A. pageant and terminate its financial ties to Donald Trump."
NHLA Chair Hector Sanchez condemned Trump's "venomous speech," and heads of two Latino organizations in the NHLA had some harsh words of their own:
"Aspirants to the highest office in the land must not use a national electoral platform to spew venomous speech about Mexican immigrants and Mexican-Americans," said Hector Sanchez, Chair of NHLA and Executive Director of the Labor Council for Latin American Advancement. "As a Mexican immigrant to this country, I can personally attest to the falsity of Donald Trump's statements."

"Univision Communications' courageous action to sever ties with both the Miss USA and Miss Universe Pageants–which are partly owned by Donald Trump–is civil rights leadership in the digital age," said Felix Sanchez, Chairman and Co-founder, National Hispanic Foundation for the Arts. "We implore NBCU to follow Univision's lead and take a similar stance and sever their financial relationship with Mr. Trump, in light of the bigoted way he has denigrated Mexicans and Mexican-Americans."
Trump hasn't responded yet, but knowing him, he will soon.
[h/t THR]
[image via screengrab]
— —
Follow Josh Feldman on Twitter: @feldmaniac
Have a tip we should know? tips@mediaite.com
Josh Feldman - Senior Editor