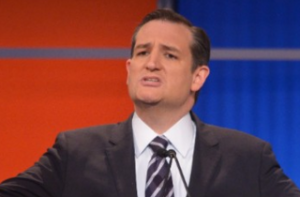 Last December, Defense Secretary Ash Carter announced that women could enter combat roles in the military. This announcement wasn't necessarily unexpected, but it still felt a little sudden. The Senate Committee on Armed Services held a hearing last week to pound out some of the details of the news and figure out what it all meant going forward. Military leaders went on the record at that hearing saying that women should now be eligible for the draft.
Conservatives are not at all thrilled about this. Following the relatively positive reaction to a question on the topic at the last GOP debate from candidates Marco Rubio, Chris Christie, and Jeb Bush, they are speaking out against women being drafted, eager to let the country know they don't stand by their representatives on this one.
So both bush and rubio favor a draft for women??? crazy

— Rich Lowry (@RichLowry) February 7, 2016
Had a weird nightmare where no Republican candidates opposed mandatory registration of women for the draft.

— Ben Domenech (@bdomenech) February 7, 2016
Mark Levin took to Facebook to express his concerns. If you have some time, click over to his page to read the comments on the post. They're downright aggressive. Some go as far as to claim that being drafted into dangerous wars is a punishment for feminist groups who have spent the last several decades fighting for equality. (There are a lot of "ROTFL"s and "Ha!"s going around over there, which seems like a hypocritical way to discuss the women a person is claiming to respect so much that they wouldn't want to see them drafted.)
Of course, all of this reactionary panic is for nothing, considering there is no draft right now. Some people, including conservative pundits, pointed this out:
We don't have a draft. I am not suggesting we should. But women and men should be treated same. https://t.co/Wm0pP36URy

— Greta Van Susteren (@greta) February 8, 2016
Only @RealBenCarson brings up veterans committing suicides. Most of that veterans round was about women and a non-existent draft. GEEZ.

— rolandsmartin (@rolandsmartin) February 7, 2016
Ted Cruz used the debate on Saturday night as an opportunity to call the drafting of women "nuts" and followed that up with a blog post yesterday that deems the act "immoral." Conservatives have been cheering him all morning and he has been retweeting their praise without comment.
One unlikely detractor of the plan, which was introduced as a Congressional bill last Thursday, is Hillary Clinton, but only because she has found that the volunteer-only service has worked just fine.
.@HillaryClinton: Idea to have everybody register "concerns me a little bit" https://t.co/4UOm6W4ts6 #DemTownHall https://t.co/ZYvu3geZ9j

— CNN (@CNN) February 4, 2016
Debate on this will continue indefinitely so settle in and get used to this topic.
[image via screengrab]
For more from Lindsey, follow her on Twitter.
Have a tip we should know? tips@mediaite.com