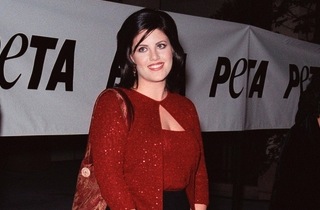 Dear younguns: once upon a time, the nation held a huge bonfire over President Bill Clinton's dalliance with White House intern Monica Lewinsky. Lewinsky was then largely unheard from until this Thursday, when Vanity Fair will publish an exclusive reflection on the affair and her life since. The whole thing will probably seem bizarre to you.

In excerpts made available, Lewinsky calls the tryst consensual, though she accuses Clinton of scapegoating her during the ensuing scandal:
"Sure, my boss took advantage of me, but I will always remain firm on this point: it was a consensual relationship. Any 'abuse' came in the aftermath, when I was made a scapegoat in order to protect his powerful position. . . . The Clinton administration, the special prosecutor's minions, the political operatives on both sides of the aisle, and the media were able to brand me. And that brand stuck, in part because it was imbued with power."
Lewinsky also writes about how the coverage made her briefly suicidal (she felt almost "literally humiliated to death"), feelings that were revived when Tyler Clementi, a freshman at Rutgers, took his own life after his roommate livestreamed him kissing a man in his room. Following the incident, Lewinsky writes, "my own suffering took on a different meaning. Perhaps by sharing my story, I reasoned, I might be able to help others in their darkest moments of humiliation. The question became: How do I find and give a purpose to my past?" (A: working with victims of online harassment.)
Also, younguns: this was the number one song in the country the week the Lewinsky scandal broke. This humble scribe will still defend the first half of the 1990s.
[h/t Vanity Fair]
[Image via Featureflash / Shutterstock.com]
——
>> Follow Evan McMurry (@evanmcmurry) on Twitter
Have a tip we should know? tips@mediaite.com