Liberal Group Releases Disturbing Ted Cruz-Miley Cyrus 'Wrecking Ball' Mashup Video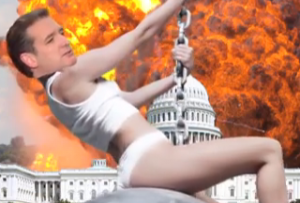 Ted Cruz is getting the brunt of the blame for the government shutdown fiasco, and the liberal group American Family Voices decided to make a parody video in which Cruz's head is placed onto Miley Cyrus' body in the "Wrecking Ball" music video. Get it? 'Cause he's also a wrecking ball!
Mike Lux, the chair of American Family Voices, explained why they thought it would ever be a good idea to haunt people's minds with that particular image.
To get to this land of stateless nirvana where the makers rule in glory, Cruz and his gang are willing to do any amount of "short term" damage they can — although how many decades is short term seems to be irrelevant to them. They want a revolution, by God, and are willing to destroy anybody and everything to get it.

Miley Cyrus' very strange video seemed like the perfect metaphor for the insane megalomaniacs led by their hero Cruz. Take a look and see how well it tells the story. And let's hope that whichever sane Republicans are left standing in that party have the wisdom to stand up to Cruz and his wrecking ball.
And yes, the part of the video where she's riding the wrecking ball naked is in there too, for God knows what reason.
Meanwhile, with a potential deal on the horizon, Cruz is getting blamed for causing the crisis in the first place, with his hometown paper reneging on its endorsement of him and an anonymous Republican lawmaker saying Cruz "played the stupid card."
If the thought of Ted Cruz's head placed onto Miley Cyrus' body doesn't make you up-chuck at the mere thought of it, watch the video below:
[h/t HuffPost]
[photo via screengrab]
— —
Follow Josh Feldman on Twitter: @feldmaniac
Have a tip we should know? tips@mediaite.com
Josh Feldman - Senior Editor