Liberal Media Okay with 'Turd' and 'Blow Job' Comments to Help Elect Hillary, But Not Trump's Unpatriotic Response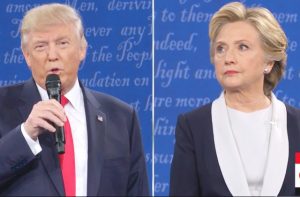 As news outlets along the political spectrum are wringing their hands over Donald Trump's refusal to state he'll honor the election results, there are much more deplorable things going down. Madonna promised free blowjobs for Hillary Clinton supporters, while CNN commentator Van Jones called Trump a turd. Such refined language coming from the sanctimonious liberals who blamed Trump for turning the 2016 election into an R-rated movie.
For the record, Trump's exact words when asked by Fox News debate moderator Chris Wallace were:
"I will tell you at the time. I will keep you in suspense," Trump answered with a wry smile.
An accurate interpretation of this exchange would lead one to conclude that this wasn't a refusal; but rather, a postponement. Still, this wasn't a smart move for Trump, because he once again supplied the liberal media with ammunition. After a decent, calm debate performance, Donald enabled the media to obliterate the substance of his remarks, reducing his share of the 90 minutes to one "unpatriotic" moment in time.
Trump does indeed say stupid stuff that doesn't help him, but the media blows every little thing he says "bigly" (give the hombre some credit for coining a new word) out of proportion. He said Hillary was a nasty woman, and the media fixated on that too. Her unfavorables are over 50%––he's not wrong.
Hillary called Trump's waver on respecting the results of the election "horrifying."
What's truly horrifying is this. Introducing trash-talk comedian Amy Schumer before her appearance at Madison Square Garden, Madonna chose to go low, very low.
"One more thing before I introduce this genius of comedy: If you vote for Hillary Clinton, I will give you a blowjob — and I am good."
"I take my time, I have… eye contact and I do swallow," she added, giving a thumbs up," Madonna effused.
I'm pretty sure Michelle Obama would not want girls to be "exposed to this kind of vicious language," as she described of Trump's 2005 lewd video. Where is the mainstream media's demand for Hillary to denounce Madonna's crude sales pitch? Crickets. Remember the media heckled Trump for weeks to denounce white supremacist David Duke's support of Trump.
Moreover, where's the outrage at Van Jones' comments on CNN? Appalled by Trump coyly refusing to answer the question about honoring the election results, Jones said:
"This is a really sad night. I'm just gonna say it. This is a very sad night for the country. You can't polish this turd."
"Technically, you cannot polish any turd," chimed in CNN anchor Anderson Cooper.
And the other panel members erupted in chuckles. They should have thrown rolls of toilet paper at Jones.
Essentially, Jones called the GOP nominee Trump a turd––and didn't just get away with it––but was quietly applauded by for it by the media. If Jones were conservative and said this about Hillary, he'd be banned from the airwaves. What's "appalling and outrageous" and more horrifying than Trump refusing to say he'll honor the results of an election is the prospect of Hillary running a corrupt, lawless White House like she did the State Department.
While Secretary of State, Hillary used a private email server to run an opaque operation; she also colluded with many government officials in Washington to protect her corrupt enterprise. In 2015, Undersecretary of State Patrick Kennedy aggressively lobbied the FBI to downgrade classified emails (to unclassified) that Hillary sent on her private server.
A State Department employee assigned to the group responsible for handling Freedom of Information Act requests and for reviewing the Benghazi emails revealed there was a Shadow Government of individuals tasked with dealing with "everything Clinton," according to The Wall Street Journal.
"This employee also reported that the group was made to work with officials at the Justice Department, the Defense Department and the White House Counsel's office who were not their normal points of contact," noted the Journal.
If Hillary Clinton is elected, good Americans should honor the results––but we don't have to like them.
— —
Crystal Wright is author of the newly released book Con Job: How Democrats Gave Us Crime, Sanctuary Cities, Abortion Profiteering, and Racial Division. By day, Crystal is a communications consultant and editor and publisher of the blog Conservative Black Chick.
Follow Crystal Wright @GOPBlackChick on Twitter
— —
This is an opinion piece. The views expressed in this article are those of just the author.
This is an opinion piece. The views expressed in this article are those of just the author.