Liberty University Student Handbook: Curfews, Preferred Hair Styles And Punishments For Watching R-Rated Movies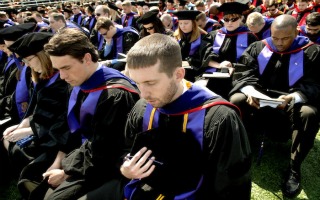 As former Massachusetts Gov. Mitt Romney prepares to address the 2012 graduating class of the socially conservative Liberty University on Saturday, Talking Points Memo released portions of Liberty's code of conduct handbook for students.

RELATED: NY Times Buries The Lede: Anderson Cooper's Ratings Surge At 8PM
Liberty University, founded as a socially conservative learning institution by the late Rev. Jerry Fallwell, restricts certain interaction between male and female students.
According to the handbook that outlines expected behaviors by Liberty students, "The Liberty Way," students can be fined for entering the bedroom of a student of the opposite gender and are subject to disciplinary action if they are caught watching R-rated films.
Just knowing a film's rating may not be enough to avoid punishment. Many "PG-13" and some "PG" movies, although not prohibited, may also be inappropriate.
Liberty has strict guidelines for the hairstyles of their students. For men:
Hair and clothing styles related to a counterculture (as determined by the Student Affairs Deans' Review Committee) are not acceptable. Hair should be cut in such a way that it will not come over the ears, collar or eyebrows at any time. Ponytails for men are unacceptable
For Women:
Hair and clothing styles related to counterculture (as determined by the Deans' Review Committee) are not acceptable. Dresses and skirts should be no shorter than the top of the knee (sitting or standing). Skirt slits should be modest; open slits should be no higher than the top of the knee, closed slits should be no higher than two inches from the top of the knee. Shoulder straps should be no less than two inches wide. Anything tight, scant, backless, see-through, low in the neckline or revealing the midriff (in any position) is immodest and unacceptable. Slips should be worn under thin material. Earrings and plugs are permitted in ears only. No other facial piercings or plugs are allowed, including tongue.
In 2004, Andrew Garib outlined many practices at the university that some find objectionable with portions taken directly from the handbook. For example, Liberty has had, since 1988, a system of mandatory, random drug testing:
To participate in this drug-testing program, which permits the University to test any student (hair, urine or blood as specified by the administration), irrespective of the method by which that student was selected. Student selection will be accomplished both on a random basis and on the basis of suspected use and/or drug possession as defined in the "The Liberty Way."
NOTE: Students who test positive for drug use will be responsible for covering the cost of the drug test.
Students are also expected to observe a strict curfew – midnight on weekends (except Thursday, when the curfew is at 10 p.m.) and 12:30 a.m. on weekends.
Have a tip we should know? tips@mediaite.com