Limbaugh Blasts GOP for Not Wanting Obamacare to 'Hurt People': 'Why Not, If They Voted for It?'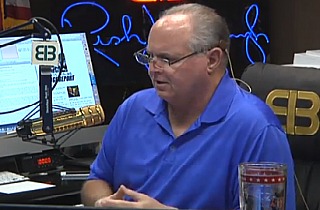 Conservative radio host Rush Limbaugh tore into the "establishment" within the Republican Party on Monday for backing efforts to ease the pain that Americans are experiencing as a result of the implementation of the Affordable Care Act. Limbaugh wondered why the GOP is now attempting to save the American people from feeling the full effects of what they voted for.

Limbaugh began by introducing a clip of National Review editor Jonah Goldberg who, he said, "often times will tell you what the establishment thinks."
Goldberg, appearing on Fox News Channel, responded to Limbaugh who had previously advocated for the GOP to take a hands-off approach to mitigating the pain felt by average Americans who are losing their health care plans as a result of the ACA. "That's a hard political message for Republicans to sell," Goldberg said.
RELATED: Rush Limbaugh Explains Why GOP Didn't Want Cuccinelli to Win
Limbaugh said that this clip was telling in light of a "test" he was performing. "If I adopted the position of the establishment, I wanted to see what the establishment would do," Limbaugh said. "It appears from this comment that there is no taste now for letting it implode because letting it implode would hurt people."
"Why, a month ago, was it okay for it to implode and by definition cause pain and suffering happen?" Limbaugh asked. "Why were they ever in favor of this?"
"Is the establishment changing their opinion because I've agreed with them and they don't want me on their side?" he asked.
Limbaugh went on to detail how the ACA implementation has devastated President Barack Obama's approval ratings.
Limbaugh again asked why, if the GOP establishment was advocating for letting the ACA implode during the shutdown, they no longer think that is a viable option. "Now that it is imploding, it appears that there's not the stomach for letting that happen," Limbaugh asked. "Because the establishment thinks, 'Well, it's not a good lesson for the American people to have to suffer and be in great pain just to learn how bad Obamacare is.' Why not, if they voted for it?"
Listen to the clip below via The Rush Limbaugh Show:
[Photo via screen grab ]
— —
> >Follow Noah Rothman (@NoahCRothman) on Twitter
Have a tip we should know? tips@mediaite.com