Limbaugh Riffs On Mediaite Post About 'Burnt Out' Jay Carney: Is Obama 'Attempting To Backstab The Guy?'
Limbaugh Riffs On Mediaite Post About 'Burnt Out' Jay Carney...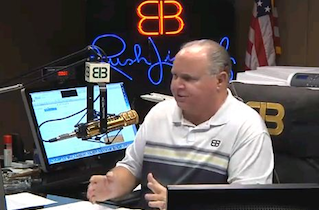 On Thursday, conservative radio host Rush Limbaugh discussed a recent post in Mediaite which detailed White House Press Sec. Jay Carney's increasingly frazzled behavior. He speculated that the administration may be attempting to tarnish Carney's reputation in the press. "I'm just wondering if there are other White House operatives in there who are attempting to backstab the guy," Limbaugh asked.

RELATED: Time for Carney To Go? White House Press Secretary Clearly Stressed, Burnt Out
During his third broadcast hour on Thursday, Limbaugh cited a Breitbart.com story in which it was claimed that Carney contradicted the president regarding the impetus for shutting down White House tours. "He just blatantly, totally contradicted Obama within one half hour of each other," Limbaugh said.
"Something here is just really, really out of whack," Limbaugh added. "Carney, up till now, has been the most loyal mouthpiece and 'regurgitator' you could hope for. Whatever unbelievable statement [Barack] Obama makes, [there's] Carney repeating it and embellishing it."
Limbaugh quoted from a piece by Mediaite contributor Joe Concha in which he raise questions about Carney's increasingly evident agitation and his ability to perform in his position as White House press secretary.
Over the past few weeks, however, a noticeable behavior has manifested itself in Carney's daily briefings. He has become more testy, more combative, more personal with the White House Press Corps than anyone in his position prior. It seems if any reporter questions this White House—which has arguably experienced its worst month if recent precipitous drops in the polls are any indication—they are attacked publicly and directly.
"They're asking here if Carney maybe should go," Limbaugh noted. "Maybe the guy's got a conscience? Maybe the guy doesn't want to appear to be a fool?"
"I'm wondering if other White House operatives might be circulating this news to Mediaite that Carney's frazzled and burnt out?" Limbaugh asked. "I'm just wondering if there are other White House operatives in there who are attempting to backstab the guy. Because this is really weird."
Listen to the clip below via The Rush Limbaugh Show:
> >Follow Noah Rothman (@NoahCRothman) on Twitter
Have a tip we should know? [email protected]