Limbaugh to GOP: Don't Let Obama 'Eliminate Pain' by Delaying Individual Mandate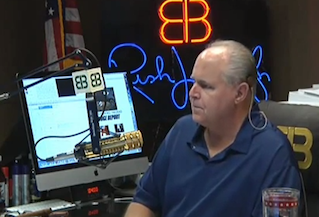 Republicans have been calling for a delay in the Affordable Care Act's individual mandate long before the law was implemented on October 1st. But on his radio show Friday, Rush Limbaugh told his fellow conservatives that the last thing they should want at this point is for President Obama to "eliminate pain" by removing that feature from the law.
Limbaugh used the words of CNN's Candy Crowley, who he referred to as "Candy baby," to call Obama's "apology" on NBC News last night "too little, too late." Because of the apology, however, Limbaugh noted that there is now "heightened talk of delaying the individual mandate for a year."
While he thinks there was a time when that strategy would have been "advantageous" for Republicans, Limbaugh said that ship has sailed. "It would be a gross error to delay the individual mandate," he said. "Do not let them delay this mandate, do not go along with that. You make everybody live with this debacle."
All Republicans would be doing, if they "allow" the individual mandate to be delayed, Limbaugh argued, is "eliminating all of this pain, which is going to help the Democrats in the 2014 midterms, right?" He added, "if Republicans go along with delaying the individual mandate, they're making a big mistake here, folks."
If Limbaugh gets his way, and Democrats, or even President Obama decide the right thing to is delay the mandate, Republicans could find themselves in the unexpected position of voting to keep Obamacare just as it is.
Watch video below, via Rush Limbaugh:
[photo via screengrab]
— —
>> Follow Matt Wilstein (@TheMattWilstein) on Twitter
Have a tip we should know? tips@mediaite.com