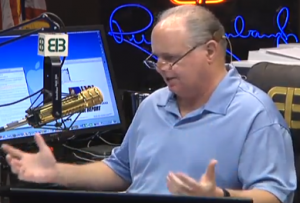 Rush Limbaugh declared today, "I am gonna be the last person to cave." Cave on what?, you may ask. Well, Limbaugh is getting tired of Republicans giving in to President Obama on every little thing, even as the polls show Obama's at record lows and people say they are disappointed with Obama. But in spite of this, Limbaugh said, there is "abject fear of pushing back" from the Republican side because they've all been kowtowed.
He trashed the Republicans for "doing everything they could to deemphasize, to beat, humiliate, and basically render irrelevant the tea party," when they could have done so much more had they joined forces. Limbaugh predicted the Democrats would lose big in the midterms, but that's not going to mean anything if they don't have a strong Republican party to oppose them.
He charged that the White House and Democratic party have been able to get things done without much opposition because they've been engaging in "bully" tactics.
"Now we're in a circumstance where no matter where you go in the country, except in little enclaves of Democrats, everything happening is universally opposed. We are genuinely being governed by a smaller and smaller minority, which somehow is able to bully everybody in the majority into shutting up. They're able to bully people into not only shutting up, but caving."
You can listen to the audio below, via The Rush Limbaugh Show:
[photo via screengrab]
— —
Follow Josh Feldman on Twitter: @feldmaniac
Have a tip we should know? tips@mediaite.com
Josh Feldman - Senior Editor