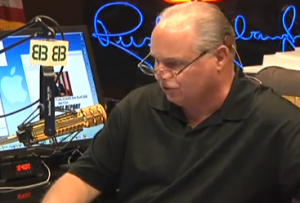 It was a pretty big deal today when the RNC threatened to boycott MSNBC over a derogatory tweet (though the matter seems to have been cleared up now), but Rush Limbaugh had a pressing question today about the threat: why would anyone from the RNC be going on MSNBC in the first place? Because recently, Reince Priebus and a number of other Republican officials appeared on MSNBC to talk immigration reform, which Limbaugh could only fathom was happening because 1) he has a ban on MSNBC soundbites and Republicans wrongly assume they're safe, and 2) they just rally, really, REALLY want Democrats to like them.
Limbaugh lifted his ban on MSNBC just so he could rip Republicans a new one for talking up "amnesty" on the liberal network. He said, "Why would they do that? Nobody watches MSNBC." It's possible, he said, that they're going on to "be liked and understood and appreciated… by liberal Democrats who are predestined to hate them."
Limbaugh went on a brief tangent about Larry King swiping at Fox before getting to the crux of why he thinks Republicans enter the lion's den of MSNBC as often as they do.
What are the Republicans obsessed with, at least outwardly? They appear to be obsessed with Democrats liking them. They appear to be obsessed with Democrat voters not thinking they're whatever. So they're going here on a Democrat network and saying, "Hey, look at us! We agree with you on something. We're all for what you're for and we're just harmless, lovable people."
Listen to the audio below, via The Rush Limbaugh Show:
[h/t Daily Rushbo]
[photo via screengrab]
— —
Follow Josh Feldman on Twitter: @feldmaniac
Have a tip we should know? [email protected]
Josh Feldman - Senior Editor