Limbaugh Won't Stop Digging: Climate Change-Pushing Liberals Find Hurricane Irma 'Exciting'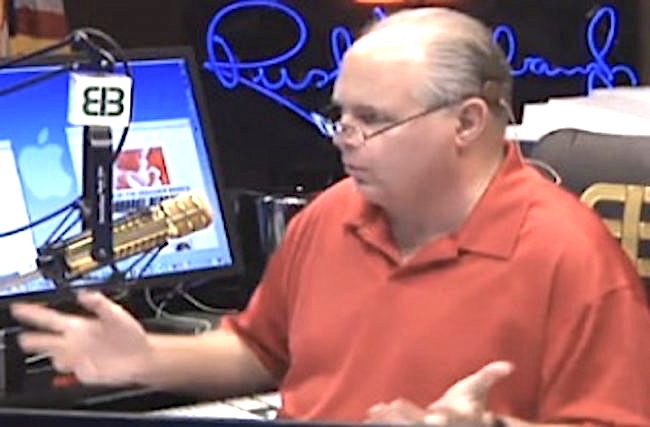 So, earlier this week, conservative radio host Rush Limbaugh suggested that all of the hype surrounding Hurricane Irma — a Category 5 storm with 185 MPH winds — was part of a "deep state" conspiracy to advance a "climate change agenda" and sell a lot of bottles of water. Or something like that.
Since then, Limbaugh has been taken apart by numerous media outlets and America's most famous weatherman, Al Roker — who highlighted just how dangerous Limbaugh's conspiratorial ramblings on hurricanes really are. And in the past two days, there is tangible evidence of Irma's strength — as the storm has had a devastating impace across the Caribbean as it makes its way to the States.
So did Rush decide to maybe stop claiming the concerns about Irma are overblown and part of the lib agenda? No. No, he didn't.
During today's broadcast of The Rush Limbaugh Show, the host complained about the bad press he's received over his skepticism about the hurricane. In his opinion, the criticism of his commentary "revolves around politics" because he will "continually poke holes in their balloon."
And then, Limbaugh went back to embracing the notion that liberals and the media are using the storm to push a "political agenda," as they are the ones "exaggerating."
"There's corruption everywhere in our politics, and it's epitomized during national disasters and emergencies, because the left is always working on moving their agenda forward," he declared. "Climate change, radical environmentalism, and so the occasion of this hurricane is an exciting thing for them."
Limbaugh also claimed that he was just taking the "emotion out of the equation" and that all he did was explain how retailers make money and tv networks draw big ratings during hurricanes.
Listen to the clip above, via Media Matters.
[image via screengrab]
—
Follow Justin Baragona on Twitter: @justinbaragona
Have a tip we should know? tips@mediaite.com