Listen to This Pro-Trump Anthem That Jonathan Papelbon Used to Blast in the Nationals' Clubhouse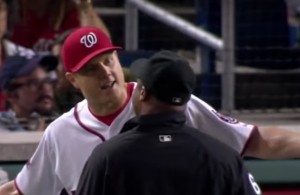 Jonathan Papelbon was released by the Washington Nationals on Saturday after spending nearly two seasons with the club. Given that the NL-East leading Nationals are entertaining serious World Series thoughts, Papelbon's career-worst 4.37 ERA simply wasn't going to cut it.
But there may have been more to his release. In a column for The Washington Post, Dan Steinberg writes that the former Nationals closer made no effort to hide his conservative beliefs, which may not have played well with the DC fans.
Steinberg wrote that on multiple occasions, Papelbon blasted a pro-Donald Trump country song in front of reporters. The anthem, titled simply "Vote For Trump" by singer Rodney Carrington isn't very subtle.

Here are some of the lyrics:
He understands the workin' man.
Tells a truth that we can understand.
If you don't like it, you can all just kiss our ass.

He pays his own way, dont take no crap.
Gonna bring back country, get rid of rap.
And if nothin' else, we can all thank Donald for that.
Steinberg wrote that Papelbon evidently didn't care what fans thought of his politics.
Should fans judge athletes on their political beliefs? Probably not, unless you've given up on the idea of sports-as-escapism. Should fans judge athletes on the lyrics of their personal musical choices? That's a terrible idea, too, unless your goal is to be forever miserable. You could argue that there's courage in standing for your political beliefs even when they won't play well in your home stadium — and my impression is that the Nats' fan base leans more left than right.

But it all contributed to the impression that Papelbon wasn't particularly interested in reversing his local unpopularity. It's an impression that didn't change after he lost his closer role and was shown sunning himself in the bullpen late in a recent game. Maybe that was silly, too, but it all felt like a man completely indifferent to salvaging his reputation in the stands.
[h/t Deadspin]
[image via screengrab]
–
Follow Joe DePaolo (@joe_depaolo) on Twitter
Have a tip we should know? tips@mediaite.com
Joe DePaolo - Senior Editor