'Look at That Face': Trump Rolling Stone Profile Features Him Sniping at Fiorina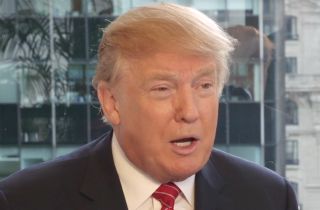 Rolling Stone has a profile of Donald Trump out today, and as with all things Trump, it's full of braggadocio and promises of everything being done the best and most efficiently if he was president.
In the profile, The Donald talks to reporter Paul Solotaroff about everything from what he was like as a kid to his business dealings to New Hampshire's heroin problem.
There's one point in the profile when Solotaroff brings up Trump taking some shots at rival Carly Fiorina during a campaign speech. In it, Trump mocked the idea that he has to restrain himself in talking about her because she's a woman, riling up the crowd by bringing up things he was told not to say about Fiorina, like how she "ran Hewlett-Packard into the ground," laid people off, got fired herself, and lost a Senate campaign.
But it's this moment later on, from when Trump watched Fiorina reacting to his rise for a TV spot, that's getting some particular attention tonight:
When the anchor throws to Carly Fiorina for her reaction to Trump's momentum, Trump's expression sours in schoolboy disgust as the camera bores in on Fiorina. "Look at that face!" he cries. "Would anyone vote for that? Can you imagine that, the face of our next president?!" The laughter grows halting and faint behind him. "I mean, she's a woman, and I'm not s'posedta say bad things, but really, folks, come on. Are we serious?"
You can read the full profile here.
[image via screengrab]
— —
Follow Josh Feldman on Twitter: @feldmaniac
Have a tip we should know? tips@mediaite.com
Josh Feldman - Senior Editor