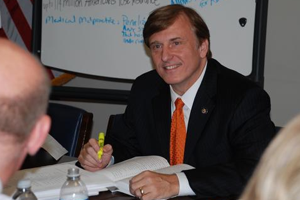 The House Republican "New Media Challenge"– a friendly intra-party contest, modeled after March Madness, to see which Congressperson could get the most YouTube, Twitter, and Facebook followers within a six-week span of time– is over. Sadly, none of our top picks made the cut, but congratulations are in order for Louisiana Congressman John Fleming, who took home the grand prize: an iPhone!
This sounded like a pretty shaky idea when it was first announced– especially given the national Republican Party's history with the internet— but it actually, according to The Hill, it actually went a long way in getting Republican Congresspeople to effectively use social media:
For his victory, Fleming won an iPhone. Rep. Phil Gingrey (R-Ga.) won a flip-cam for his second-place finish and Rep. Lamar Smith (R-Texas) took home some steak knives for his third-place spot, "to symbolize the need for House Republicans to stay on the 'cutting edge' of new media."

Republicans did not announce Fleming's totals, but on the whole "members gained a total of over 30,000 new Facebook fans, over 11,000 new Twitter followers and over 1,100 new YouTube subscribers," according to a GOP press release.
Getting Congresspeople to translate their communication with constituents to a Web 2.0 platform was apparently worth the price of an iPhone and a few fancy knives. In fact, the contest was so successful, House Democrats planned their own, entitled the "Member Online All-Star Competition," which began on Monday and will last two weeks. No word on what the prizes on the Democrats' side will be, or whose competing, yet.
(h/t Wonkette)
Have a tip we should know? tips@mediaite.com