London Mayor Fears American Backlash, Warns Obama Against 'Anti-British Rhetoric'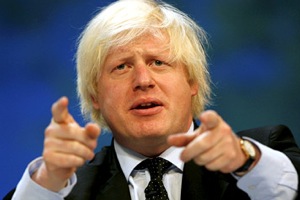 UK leaders are just as sick of this oil spill story as their American counterparts– not just because of the destruction of some of the most beautiful shores on the Western Hemisphere, but because Americans are being mean to their premiere oil corporation, BP, while the company's stock value is inexplicably plummeting. London Mayor Boris Johnson, in particular, was upset with Americans' "anti-British rhetoric, buck-passing and name-calling."
The London Evening Standard is reporting that Johnson, as well as some Conservative Party leaders, are concerned about the anti-British sentiment they perceive coming from politicians and the media on the other side of the pond, especially the part of the pond that is now just a puddle of brown goo:
"Former Conservative Party chairman Lord Tebbit branded Mr Obama's conduct "despicable". And with the dispute threatening to escalate into a diplomatic row, Mr Johnson also appeared to suggest that David Cameron should step in to defend BP. He spoke as the US onslaught against the firm became a "matter of national concern" — especially given its importance to British pensions, which lost much of their value today as BP shares plunged to a 13-year low. […]

Asked on BBC Radio 4's Today whether he thought the Prime Minister should intervene, Mr Johnson said: "Well I do think there is something slightly worrying about the anti-British rhetoric that seems to be permeating from America. Yes I suppose that's right. I would like to see cool heads and a bit of calm reflection about how to deal with this problem rather than endlessly buck-passing and name-calling. When you consider the huge exposure of British pension funds to BP and its share price, and the vital importance of BP, then I do think it starts to become a matter of national concern if a great UK company is being continually beaten up on the international airwaves."
They are particularly upset at Obama's claim that, should he have been in charge, he would have fired BP CEO Tony Hayward because, while Hayward is the man in charge, "it was an accident that took place"– suggesting that possible negligence on the part of BP was out of the question. Meanwhile, the people in power only noted that they must now deal with the "broader impact" of the oil spill, and announced that Prime Minister David Cameron is slated to discuss the issue with President Obama over the weekend.
Chances are the Tories are protecting themselves from the possible economic repercussions of a weak BP and, maybe, a tourism drop. But defending BP is not exactly a popular position around here, no matter how much it may seem from afar that the media has united against President Obama. The last time someone vaguely suggested that the federal government should not take all its ire out on BP, they became a national laughingstock. It will be interesting to see if the people that pounced on Rand Paul for making a roundabout libertarian argument for BP will be equally quick to attack Mayor Johnson, as his motives for defending BP are much more practical, and he and the Tories are going as far as to defend Hayward, which is on his way to becoming this generation's OJ Simpson.
Have a tip we should know? tips@mediaite.com