Majority of Republicans Feel Invited Artists Should Perform at Inauguration Even if They Don't Want To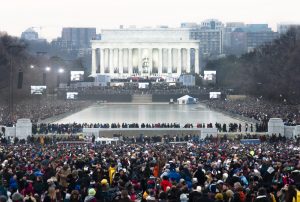 There has been quite a bit of discussion about the lack of A-list talent that President-elect Donald Trump will have performing at his inauguration. It was reported last month that his team was desperate to get some big names to show up. Meanwhile, Trump himself took to Twitter to deflect the issue, saying he wants "the people" and that A-listers were trying to get tickets.
Regardless, with the inauguration two weeks away, there are no stars lined up to perform. With that in mind, Morning Consult ran a poll asking voters if they believed celebrities and entertainers should be obligated to perform if invited. And, the responses fell largely along partisan lines.
While the majority of all respondents felt that artists should not perform at the inauguration if they didn't want to, 53% of Republicans believed the following:
"Celebrities and artists should perform at the inauguration if invited; the country needs to come together and continue to heal after a long election. Celebrities turning down invitations to make political statements only furthers the divide and disrespects the person who won the presidency."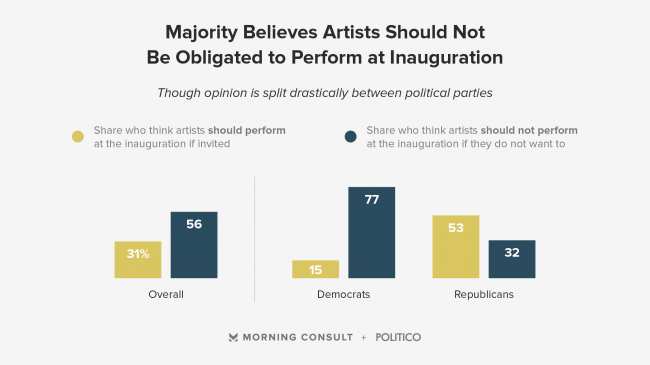 As you can see from the above poll results, only 15% of Democrats felt artists should be obligated to perform, compared to 77% who thought they should have the freedom to decline.
Views on individual performers and groups — such as KISS, Celine Dion, Elton John and Justin Timberlake — who have declined invitations also fell along partisan lines, with Republicans saying their declines made them have a less favorable opinion of the artists and Democrats seeing them in a more positive light.
During a CNN discussion on this issue last night, host Don Lemon said it would actually be "political correctness" to compel artists and entertainers to perform at the inauguration.
UPDATE 5:07 PM ET: The title of this piece was changed as the question asked by Morning Consult did not ask if entertainers "should be required."
[images via Morning Consult/Shutterstock]
–
Follow Justin Baragona on Twitter: @justinbaragona
Have a tip we should know? tips@mediaite.com