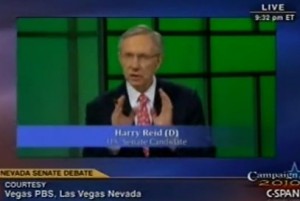 One of the sound bites to emerge from last night's Harry Reid vs. Sharron Angle debate has Angle telling Reid to "man up," a popular line of attack on Reid from both sides of the political spectrum. While this kind of gender-based attack tends to generate nothing more than an "Oh, snap!" from most observers, imagine what would happen if Reid had told Angle to "act like a lady," or if President Obama told Sarah Palin to "grow some breasts?"
Is Sharron Angle a sexist? And who is she really telling to "man up?"

While any suggestion that men in this country are downtrodden or oppressed would rightly be greeted with derisive laughter, attacks like this actually serve to reinforce the notion that women are inferior. Just as Sarah Palin's attack on President Obama's balls carried with it the inference that a mere vagina is inferior, Angle's admonition for Reid to "man up" means that she judges him to be acting like a woman, and that this is not a good thing.
While telling her opponent to "man up" plays well in the cheap seats, it has the additional benefit of distracting from the substance of what Reid and Angle were actually debating: Social Security. Angle, like President George W. Bush and fellow gender-baiter Alan Simpson, seems to think that the solution to the government's raiding of the Social Security trust fund is for the people who got raided to "man up."
Reid correctly points out that there are ways to fix Social Security's long-term problems without privatizing (or personalizing) it, a scheme that would have been devastating had it succeeded under Bush:
Have a tip we should know? tips@mediaite.com