Marines Corps Quietly Decides Women Can't Do Three Pull-Ups Because of Their Weak Woman Arms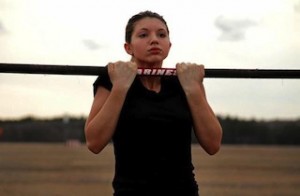 When the US Marine Corps announced that they would start accepting women into its combat units, they also announced that ladies desiring to kill people for America needed to meet certain physical fitness standards by January 1st — for instance, doing three pull-ups in a physical fitness test. (Men are also required to do three pull-ups.)

A few days ago, however, the Marines quietly decided that they weren't sure whether women could do three pull-ups and scrapped the entire test altogether. NPR reports:
Lance Cpl. Ally Beiswanger explained that the pullup test had been put off until sometime next year, to gather more data and "ensure all female Marines are given the best opportunity to succeed."

So far, female Marines are not succeeding. Fifty-five percent of female recruits tested at the end of boot camp were doing fewer than three pullups; only 1 percent of male recruits failed the test.
Though they're the only branch of the military that has a pull-up requirement (the Army and Navy use pushups instead), the Marines claim that pull-ups are a great way to test upper-body strength, and upper body strength is an asset that can save lives in combat: carrying people and heavy objects, climbing out of holes and over walls, pulling a pole-shaped guerrilla fighter closer to your chin, etc.
But the "women doing pull-ups" debate has raged on for years: research from the University of Dayton found that untrained women and their wibbly biceps cannot do one pull-up, even given the exact same physical training as men. However, given extra time to develop the necessary strength for the exercise (because women don't have muscle-boosting testosterone, and testosterone is like Adderall for muscle growth), women are totally capable of busting out endless pull-ups:
(Note: You might note that these are intensely freaky strong Crossfit apostles. Frankly, I would prefer a freaky strong Crossfit apostle, lady or man, to kill a terrorist for me and for my country.)
The Marines seem to recognize this, and in a statement to NPR, said "they delayed the pullup requirement to avoid losing not only recruits but also current female Marines who can't pass the test." For now, they'll continue to test female arm strength with the flexed-arm hang, wherein a woman has to almost do a pull-up for 15 seconds.
[h/t NPR via Gawker]
[Image via Marine Corps Times]
— —
>> Follow Tina Nguyen (@Tina_Nguyen) on Twitter
Have a tip we should know? tips@mediaite.com