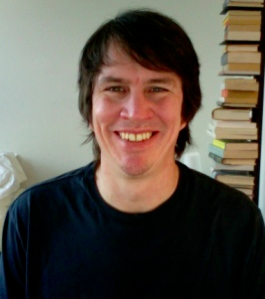 Mark Coatney, better known to many as the funny guy behind the Newsweek Tumblr account, just announced via his own personal Tumblr that he will be leaving his post at Newsweek — to take a job at Tumblr itself:
My new job, basically, will be to take the lessons I've learned at Newsweek and bring them to other media outlets. The mission is to show how this platform can be key to connecting journalists and readers, making the process more engaging and conversational. The approach will be the same that I've taken in creating the Newsweek Tumblr: That the most important thing for any publisher is to first be a full, participating member of the community, and that the main focus should be on meeting the needs of that community, not self-promotion.
Despite the magazine's recent financial turmoil, Newsweek was wildly popular among Tumblr users. When Newsweek went up for sale, Coatney took to Tumblr and defended the magazine from its  harshest critics. The commentary Coatney posted was honest, open, and always refreshingly devoid of PR-speak. It became a backchannel for readers to hear what someone at the magazine was really thinking, and Tumblr users loved it. And for many of us, myself included, the Newsweek Tumblr brought me to the Newsweek website more often than I might have otherwise visited, by posting links, photos, and articles of interest in a place where I was more likely to read them.
Newsweek was the first major media outlet to actively use Tumblr, but in recent months many others have jumped on the bandwagon as well: The New Yorker, The New York Times, The Huffington Post, The Atlantic, and Rolling Stone have all started Tumblr accounts in the last two months. Rolling Stone's account is inactive, but the New York Times and The Atlantic's both have a "Coming Soon" placeholder post.  And beyond them, countless other media outlets have been flocking to the platform (Mediaite has had its own Tumblr for the past year as well).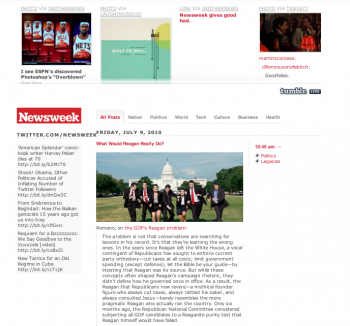 What distinguishes Tumblr from social networking sites like Facebook and Twitter is its focus on content, not follower counts. On Tumblr accounts, you cannot see how many people are following that account, as opposed to Twitter where follower numbers are prominently displayed on every page. Instead, you only see the number of "likes" and reblogs garnered by each post. By doing so, Tumblr emphasizes that success on the platform is measured solely by how good your content is, which should make it an ideal platform for online publishers. And good content it has been: the Newsweek Tumblr was loved mostly for its witty, honest daily commentary and dialogue with readers, and many have already noted on Twitter and Tumblr how sorry they will be to see Coatney leave.
I spoke to Mark today over email to get his thoughts on Newsweek's success with Tumblr, his new job, and what kind of value Tumblr can provide to traditional media outlets.
How many followers did the Newsweek Tumblr account accumulate?
We've got around 112,000 followers right now, adding about 5-700 a week. Which isn't a lot compared to, say, Newsweek's Twitter (1.3 million)–but I think that that it's a significant number–Tumblr followers are typically far more engaged than Twitter users, for one thing–you see a much higher level of engagement from those people. And there's a good network effect; Tumblr's metrics show that every 240 'notes' a post gets (that is, 'likes' or 'reblogs' of a post) translates into the post being seen by about 100,000 readers, which means on an average day, Newsweek was easily hitting around 100-200k readers/day on Tumblr; really good posts (our best one got, I think, more than 3,000 notes) were getting significantly more attention.
What value do you think Tumblr offers to media organizations? Personally I love the platform and the kind of engagement it provides, but a lot of media outlets focus on the bottom line of pageviews and fan counts – how do you sell Tumblr to them?
Part of my job will be to show that value, sure. The biggest thing I think Tumblr offers media orgs is the fact that Tumblr really is focused on good user experience–they're responsive to their users, and the service is really frictionless and easy for people to get in and quickly start blogging and connecting with others. I've used a lot of blogging CMS's (sorry, that's an awkward construction) and Tumblr is the best I've seen in terms of ease of use and (crucially) connecting your postings to other users. So the value for other media platforms is that, yes, Tumblr is a way to tie into an audience that is super engaged, and has the tools to interact with your content in an easy, fun way.
Again, my longstanding criticism of most media websites is that they're basically the same thing as print–there's no real interaction with the readers. And I think that connection with readers will be crucial for publishers going forward. You need to cultivate your most ardent fans–and I think Tumblr helps you do that.
What do you think about how so many other publications have been jumping on the Tumblr bandwagon lately, such as NYT, New Yorker, Rolling Stone, and Huff Post?
I think Tumblr's starting to get some good momentum, for one thing–they're growing at around 20% a month, adding 25k new users a day, and are close to hitting 1.5 billion pageviews/month, which would put Tumblr in the top 50 worldwide. That's a pretty good network to tap into. And again, I think the importance of having a closer, better interaction with the audience is key, and one that publishers are increasingly recognizing.
And finally, what will happen next to the Newsweek Tumblr that we've all come to love?
I'm hoping it keeps going, and does better than I did with it. There are some really great writers here who have their own Tumblrs, and I hope to get them taking this over after I'm gone.
*************
And we hope so too! We're also looking forward to seeing how other major media outlets start using Tumblr – and we're sure Coatney will be playing a big role in making that happen.
Photo from MarkCoatney.com
Have a tip we should know? tips@mediaite.com