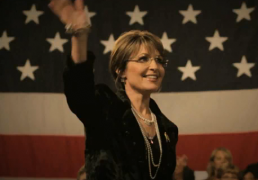 Former Alaska Governor Sarah Palin's "Mama Grizzlies" ad, and subsequent PACtivity, have pundits buzzing about a potential Palin presidential bid. At today's White House briefing, I asked Robert Gibbs about the ad, and the prospect of a run against Palin in 2012. While Gibbs initially said the President hadn't seen the ad, and that 2012 would "sort itself out," he then waded back into the question before moving on, saying that this is a debate the White House is anxious to have.
Since retiring as Alaska Governor in 2009, Palin's future in politics has been a hotly debated topic. While she is adept at firing up the base, and the campaign cash machine, polling has shown that, while voters like Palin, few believe she's qualified to be president. Even Palin's strongest supporter, John Ziegler, has said Palin can't beat Barack Obama (although for different reasons).
Her various media forays (her book "Going Rogue," her Fox News gig) led many to predict that Palin would forge a career in that direction, rather than in politics.
If Palin is, indeed, ready to run in '12, it could be big trouble for the Republicans' chances of taking back the White House, as she has enough support to win the nomination, but not enough to win the general election. However, a lot can happen in 2 years, and Palin's supernova celebrity is a wild card that makes it difficult to predict how she'll fare.
For now, though, this is just a continuation of the White House's "Don't hand the keys back to the Republicans" strategy in the mid-terms, which, until the American people start feeling the economic recovery, is probably the best thing they've got.
Have a tip we should know? tips@mediaite.com