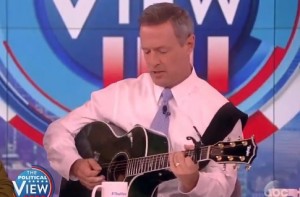 Democratic presidential candidate Martin O'Malley is struggling to pay the bills and stay out of the red.
Despite an opportunistic cover of Taylor Swift's "Bad Blood" and a rather unique Hunter S. Thompson-esque interview via CNN, the Washington Post reports that the former Baltimore mayor and Maryland governor's campaign "is perilously close to financial collapse."
Approximately 30 staff members at O'Malley's Baltimore headquarters have been relocated to major caucus states like Iowa, and the campaign is looking to secure public matching funds. WaPo's John Wagner suggests that these are signs of the candidate's intention to make a strong first caucus showing, and his need to pay off immediate costs at the possible expense of future financial headaches — should there be any.
"With hardly any income coming in, he's got to restructure the campaign so he has the resources to survive until Iowa," said a veteran Democratic consultant who asked to remain anonymous. Said consultant suggested that he or she "would not be surprised to see the campaign start laying people off in coming weeks."
O'Malley's deputy campaign manager Lis Smith explained that they see "an opening for him in Iowa and the other early states" and simply "want to focus our resources there."
Campaign spokesperson Haley Morris acknowledged the staff relocations and possible reductions thereafter, but maintained the latter was not the campaign's current aim.
Either way, it seems O'Mally is proving Biggie Smalls wrong because the less money he comes across, the more problems he sees.
[h/t Washington Post]
[Image via screengrab]
— —
>> Follow Andrew Husband (@AndrewHusband) on Twitter
Have a tip we should know? tips@mediaite.com