Martin Shkreli Goes on Wild Facebook Fantasy Rant: 'At Some Point I'll Be POTUS'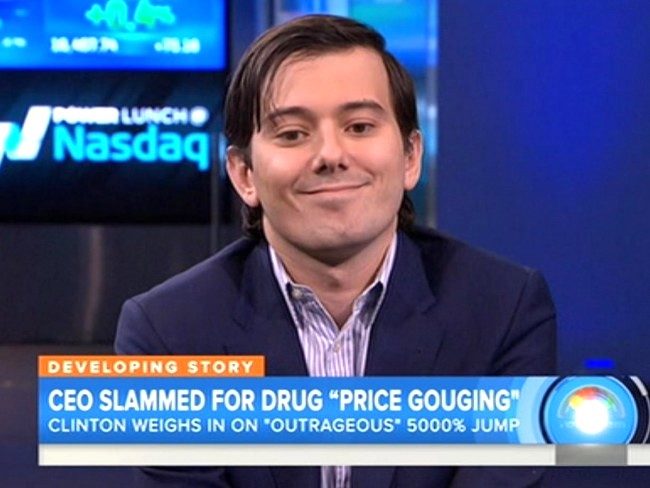 Pharma Bro Martin Shkreli seems like he had a late night last night — or maybe just got into his own supply.
At around 11:00 p.m. EST, the man who became famous for hiking the price of life saving AIDS medication went on a wild Facebook tirade speculating about a future in which he is President of the United States (crazy enough until you consider that office's current occupant.)
In addition to himself as Commander-in-Chief, Shkreli also offered up a number of ideas for a potential cabinet — including Ben Shapiro for Veep and Kim Kardashian for Fed Chairwoman. He also suggested some outlines of domestic and foreign policy priorities including planting nukes in enemy cities across the world.
It went from there, per Shkreli:
Well, at some point I'll be POTUS. Ben Shapiro will be VP, even though I don't know him some right-win money man will make that 'suggestion'. Milo Yiannopoulos will be press secretary. Kanye West will be head of the CIA. Stefan Molyneux will be Secretary of State. Kodak Black will be Attorney General. Edward Snowden would be the head of the NSA. Julian Assange: FBI. Kim Kardashian is Fed Chairwoman. Trashy is Surgeon General.

We will have defeated the Zuck/Sanders ticket in a landslide. We will abolish Zuckerberg's Universal Basic Income which passed in 2024. Cenk Uygar will be sent back to wherever he came from. Lauren Duca will tragically fall ill from subtweeting too hard if she isn't the First Lady.

America will be so powerful we will simply have nukes in our enemies' cities and tweet "I wish you would" regularly. The media would be required to go through training programs which I will call the "Pinocchio Project". Money would be eliminated from politics. No advertising allowed. Almost all entitlement programs would be cut. Defense spending will drop as I have no penis envy. Taxes will fall to 10% for both corporations and citizens. The environment will be a distant concern relative to the life, liberty and pursuit of happiness I will ensure.
Would you vote for us?
The rant is having something of a viral moment, in only seven hours of existence, it has already been liked more than 3,000 times and been shared on more than 700 accounts.
Shkreli was convicted of three counts of securities fraud earlier this month stemming from charges that he defrauded investors at a former hedge fund he once managed. He has, nevertheless, publicly cut a defiant tone, telling Fox Business that the SEC was targeting him because he was "flamboyant and personable"
You can read the insanity for yourself here.
[image via screengrab]
Have a tip we should know? tips@mediaite.com