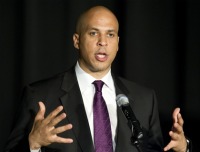 Is there anything Newark Mayor Cory Booker can't do with the help of well-timed Tweet and a disarmingly charming smile? While others in government were abandoning those New Jerseyites floating helplessly into the unknown on their ice floes, Booker donned a stylish-but-not-overly-trendy-like-he's-trying-too-hard-or-anything trapper's hat, sat down at his computer, and Tweeted his people to safety. Now, he's vowed to use the social networking site – and Facebook – to help him reach his goal weight.
Booker wrote a piece for the Huffington Post about fiscal hardship blah blah blah, "stubborn hope and relentless faith" blah blah blah, Gandhi blah blah blah, inspiring hordes of disaffected media types blah blah blah and regretting having eaten French fries and cookie dough before meeting with First Lady Michelle Obama:
As I sat with the First Lady exhorting Newark school children to eat healthy foods, exercise more, and have fun while doing it — my stomach was still trying to digest the French fries and cookie dough from the night before, and I hadn't exercised for more days than I could remember. I simply couldn't help feeling the shame of falling so far short of my own words to the children and my favorite Gandhi story.
The Mayor admits that, on Christmas Day, his weight had reached 295 pounds. He's already down to 287, but hopes that, by making himself accountable to those monitoring his progress on Twitter and through his Facebook page he'll achieve goal of weighing under 240 pounds by April 27th, his birthday:
I invite you to monitor my progress. I invite you to join with me. I invite you to be the change you want to see in the world.
We tip our possibly-expired jug of calorie-rich egg nog to you, Mayor Booker, as we look to you with an unsettling mix of hope and self-loathing.
Have a tip we should know? tips@mediaite.com