Mediaite Morning Reading List: Budget Deal, Unemployment, the Minimum Wage and More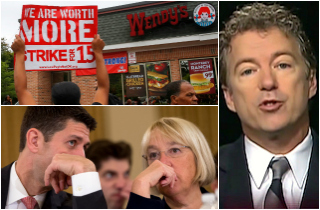 Every a.m., Mediaite publishes a primer of what the interweb machine is writing, talking, tweeting, and blogging about, so that you may fool friends and family into thinking you are a trove of information and insight. Today: the coming budget deal, which may hinge on unemployment benefits; a long piece on children in poverty; how the minimum wage could save the Democrats in 2014; and more.

Congress Readies a Year-End Dash (Kristina Peterson and Michael Crittenden, Wall Street Journal)
A budget deal looms large for Congress as the year closes, but reports say that by not trying for a grand bargain—D.C.'s white whale, for reasons that pass understanding—and instead focusing on tailored measures to chip away at the sequester, congressional leaders are inching toward a deal:
Because Republicans have refused to raise taxes and Democrats have declined to consider major cuts to Medicare or other entitlement programs, any deal is likely to mitigate only a modest chunk of the sequester. To permit spending to rise above levels set in 2011, lawmakers would need to agree on ways to trim the federal budget deficit elsewhere, potentially by increasing fees for airport security and federal guarantees of private pensions.

An agreement would mark a rare moment of bipartisan accord brokered without the specter of a government shutdown or financial chaos. However, even a deal reached by two lawmakers popular within their own parties would still have to secure the support of a GOP caucus unafraid to buck its leadership and a Democratic caucus concerned about other expiring programs. In recent weeks, Democrats have pushed to extend emergency benefits for the long-term unemployed past their Dec. 28 expiration, but Mr. Durbin said Sunday he didn't expect it would become a make-or-break issue in the budget talks.
Bonus: Voters support a small deal, though they have little faith Congress can actually achieve it.
RELATED: Why Congress Had To Go Small in Pursuit of a Budget Deal (Sean Sullivan, Washington Post)
Must-read of the Day: Invisible Child: Dasani's Homeless Life (Andrea Elliott, New York Times)
The article everyone's talking about and tweeting about, and for good reason. Andrea Elliott describes the sweeping, perhaps well-intentioned, and definitely ineffective decisions that thickened New York City's poverty, while detailing their effects on Dasani, an 11-year-old girl in a Fort Greene homeless shelter. It's full of wonderfully-observed, agonizing details like this one:
On the subway, Dasani can blend in with children who are better off. It is an ironic fact of being poor in a rich city that the donated garments Dasani and her siblings wear lend them the veneer of affluence, at least from a distance. Used purple Uggs and Patagonia fleeces cover thinning socks and fraying jeans. A Phil & Teds rain cover, fished from a garbage bin, protects Baby Lele's rickety stroller.
Read it all.
The Case for Extending Unemployment Insurance, in One Chart (Brad Plumer, Washington Post) / Why Rand Paul Is Wrong About Unemployment In One Chart (Joe Weisenthal, Business Insider)
Part of what may hold up the budget deal: long-term unemployment benefits are set to expire for about 1.3 million people at the end of the year. Though Senator Dick Durbin (D-IL) said the benefits may not be make-or-break for the budget deal, they certainly are in play, enough that House Speaker John Boehner wants to see a proposal from the White House for extending them.
Senator Rand Paul (R-KY) stepped right into the middle of this potential detente when he told Fox News Sunday yesterday that continuing benefits perpetuates unemployment. Brad Plumer brings a chart showing the long-term unemployment rate is higher now than when the benefits were cut before, while Joe Weisenthal responds directly to Paul's remarks with a chart offering an alternative explanation as to why the unemployed might remain unemployed (spoiler: no jobs).
Can Democrats Make 2014 About the Minimum Wage? (Beth Reinhard, National Journal)
Momentum is building behind minimum wage, thanks to everything from the new SeaTac wage hike to $15.00 to the growing fast food strikes to President Barack Obama's recent speech on income inequality. Now Beth Reinhard finds Democrats salivating over the issue as a way to both energize its base to prevent desultory midterm turnout and peel off Republican voters in 2014—or, if nothing else, as a way to distract from the rollout of the Affordable Care Act:
Democrats increasingly view championing the pay of hourly workers as a can't-lose issue that revs up their base of liberal, black, and Hispanic voters. Perhaps more importantly, it also resonates with the white, blue-collar workers who overwhelmingly side with Republicans.

Since minority participation tapers off in mid-term elections, assailing Republican opposition to hiking the minimum wage could be a more potent Democratic wedge than immigration reform, particularly in red states with competitive U.S. Senate campaigns, such as West Virginia, Kentucky, Arkansas, North Carolina, and Louisiana.

Focusing on the widening gap between the rich and the poor also gives Democrats a chance to change the subject away from the increasingly unpopular new health care law. That won't be easy in the races that will determine whether Democrats continue to control the Senate.
What is Deficit Mania Doing on the News Pages? (Kevin Drum, Mother Jones)
Eagle-eyed catch from the indefatigable Drum: reporting on the deficit tends to assume a conservative position, to the point of eliding the significant deficit reduction already occurring.
——
>> Follow Evan McMurry (@evanmcmurry) on Twitter
Have a tip we should know? tips@mediaite.com