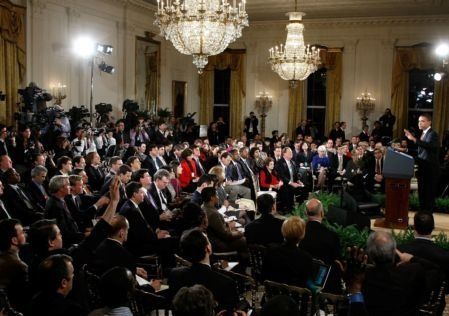 On the occasion of Mediaite's year anniversary earlier this week, some of our staff members and contributors look back on the year that was.
This week marks the one year anniversary of the launch of Mediaite, and what a year it has been. As Dan Abrams notes, predictions of Mediaite's doom were greatly exaggerated, and as Mediaite columnist and White House reporter from Day One, I have viewed the site's successful first year from a unique perch. When Rachel Sklar pitched the site to me, I have to confess I was a little bit skeptical, but it didn't take long for me to see that she and Dan were on to something.
Among other early worries about the site, Rachel and I wondered, at the beginning, what a media blog needed with a White House reporter. By the same token, in hiring me, Mediaite found itself with one, so they needed to find a use for me.
My previous work covering the White House tended to be much heavier on policy and politics than on the media, so it was a challenge, at first, to adapt my style to the new site. In fact, my first-ever question as Mediaite's White House reporter didn't even make it onto the blog. For posterity's sake, here it is:
Luckily, I adapted to covering the media, and the media obligingly adapted to me. The Summer of Health Care provided lots of fodder that was in my wheelhouse, and gave way to an ever-shrinking news cycle that thrust the media into the center of almost every story. It also didn't hurt that Press Secretary Robert Gibbs was rarely shy about pushing back against all manner of media outlets (including Mediaite) and memes. There were also ample opportunities to cover the view from behind the scenes, as with the Inside the White House Press Corps interview series.
When I returned to the White House as a Mediaite scribe, I noticed one difference right away. When I was with AOL, I used to always get this reaction: "AOL does news?"
With Mediaite, though, there was instant recognition, despite people's trouble with the name (Media-lite? Media-ate?). Early on, this was due mainly to the participation of Dan Abrams and Rachel Sklar, and more importantly, to the ingenious Power Grid.
Pretty quickly, though, I began to hear less about the Grid, and more about our site as a whole. We developed a reputation for fair, even-handed reporting and commentary, and the people I spoke to in Washington took notice. After a few months, it became common for someone to walk up to me at the White House and say, "You're Tommy Christopher, right? From Mediaite?" This was a pleasant shock to me. When I was with Politics Daily, people would recognize me despite my outlet, not because of it.
While some people still have trouble with our name, the people we cover in politics and the media sure don't anymore.
It's a poorly-kept secret that I can be a little bit temperamental, and coupled with gun-shyness at my well publicized firing from my last job (I note, with satisfaction, our decent lead over my old employer on the Technorati 100, with no help from a parent network), it's not always great fun being my editor. At the beginning, I was very suspicious of even the most mundane editorial note, certain that there were hints of my doom in every one. Mediaite allows me a great deal of freedom, but as a writer, I have a tendency to be protective of my words, as though each Road House reference were a brush stroke on the Sistine Chapel.
My temperament required such special handling that Managing Editor Colby Hall and I even have a running joke that I'm Hannibal Lecter, and he's Agent Starling, and I should be handed nothing but soft paper. There's also the knee-slapper "You're fired," to which I sometimes reply "Too soon!" Over the course of the past year, Colby and I have traded many an earful, and in the process, he's earned my trust, and hopefully, I've earned his.
Personally, this has been an incredible year. Much of my first 6 months with Mediaite are detailed in my 2009 Year in Review, but here are some highlights that, if you had told me about them last June, I would have thought you were nuts:
Getting Blacklisted by the Senate Finance Committee: This was one of the most frustrating, yet proudest, moments of the year for me. I had become such a pain in the ass to them in trying to get to the bottom of the lousy PHRMA deal, they just dropped all pretense and admitted they were just lying to me. Proud, because it meant I was doing my job well, and frustrating because I would much rather have gotten answers to my questions.
The Public Option: To the extent that a public health insurance option ever had a chance, I did everything I  could to get the White House to clarify its equivocal, and eventually fruitless, support for it.
Shooting the Shit With Dan Rather: For some reason, we held a launch party 5 months after our launch, and while there were lots of luminaries there, I was blown away by the time and attention given to me by broadcasting legend Dan Rather. It was just another surreal experience for a guy not 2 years removed from being a cubicle drone.
CPAC 2010: What an intense couple of days that was. Aside from getting to see my good friend Ed Morrissey, I also met Rachel Maddow for the first time, had an infamous run-in with Andrew Breitbart, a surreal confrontation with James O'Keefe pal Christian Hartsock, and got to do karaoke with about 10 Redstaters.
Briefing in the Rose Garden: Sometimes, it's the simple pleasures. I sure am glad Gibbs isn't doing that now, though.
Meeting Alan Colmes: For some reason, my job usually ends up putting me together with conservatives, so it was nice to be able to sit down and talk to a guy I agreed with for a change.
Chuck Todd's Star Wars Impressions: Of all the interviews I did with White House reporters this year, Chuck's still makes me laugh out loud.
Nancy Pelosi Protest Video: This might be my favorite piece of video this year. Aside from being funny, infuriating, and poignant all at once, I felt it really captured some essential truths about our politics, and how poorly served we can be by a two party monopoly.
Helen Thomas: I couldn't call Helen's sudden retirement a "highlight" of this past year, but working with her certainly was. The lightning speed of that story's arc was perfectly illustrative of the shrinking of the news cycle this past year.
Hollering at Colby Hall in the White House Rose Garden: As I said before, it's not always great fun being my editor. Never was this more the case than on a hot day last November when, as I waited with the assembled press for the President to make remarks in the Rose Garden, I got into a heated shouting match with Mediaite's managing editor, Colby Hall. I walked about a hundred feet away from the media, but apparently, not far enough. You know how everyone suddenly gets quiet while you're yelling something embarrassing? Yeah, that happened just as I was yelling my loudest, and cursiest. I turned, and every eye was on me.
It wouldn't be the last time Colby would have to talk me down, but it was the first time I considered that, maybe, he was in my corner after all.
Meeting Hillary Clinton: This is a story that I haven't told in print before, and I won't tell the whole story now, either. Let's just say that a series of events occurred that ended with me unexpectedly passing Hillary Clinton on a staircase that I wasn't supposed to be on. As I approached her, I ran through several greetings in my head, and though I decided on "Hello, Madam Secretary," what actually came out of my face (along with my best officious nod) was "Hi, Secretary!"
I don't mortify easily, but I still bury my face in my hands at the thought of it.
Getting in Tony Hayward's Grill: While Jake Tapper's zinger at the end makes this clip awesome, it was the sight of my camera, inches from Hayward's face in a wire service photo, that really took this thing to 11 for me. At first, I was just pissed off that Hayward had fled without answering any questions, but later, I realized that his silence spoke volumes, as did our lack thereof.
The Kevin Jennings Story: Of all the stories I wrote this year, this is probably my favorite. Debunking the barrage of smears against Kevin Jennings was such a heavy lift, many in the mainstream media didn't bother to try.
I don't know what this next year holds, but it's off to a bang-up start. Meet you back here next July.
Have a tip we should know? tips@mediaite.com