Mediaite's Tommy Christopher And Glenn Greenwald In Tense Twitter Brawl Over Snowden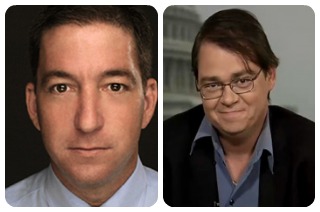 A contentious exchange broke out on Twitter on Tuesday morning between The Guardian journalist Glenn Greenwald and Mediaite White House reporter Tommy Christopher over what charges National Security Agency leaker Edward Snowden should face. What began as an academic interchange degenerated somewhat when Greenwald accused Christopher of being a "worshiper" of President Barack Obama which, he implied, motivated Christopher's suspicion of Snowden.

RELATED: Greenwald Slams Snowden Espionage Charges: 'Extreme Excess,' 'Vindictive Mentality' From Obama Admin.
The Twitter brawl began innocently when Christopher engaged Greenwald and asked him to clarify what, if any, charges he believed Snowden should face if the United States is ever successfully able to repatriate him.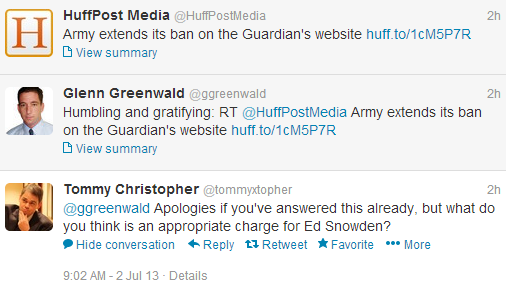 Greenwald clarified his position, but Christopher spotted some inconsistencies: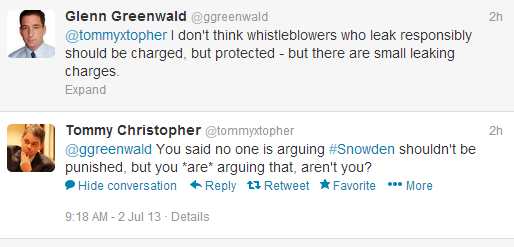 He cited a recent appearance on MSNBC's All In with Chris Hayes in which Greenwald noted that charging Snowden with espionage would be "overcharging," but conceded that it would be appropriate for Snowden to face some criminal penalty for his actions.


Greenwald fired back at Christopher and asked if he has been intellectually consistent himself:


The tone of the back and forth became heated as Greenwald expressed his frustration with the one-sided nature of the exchange.


At this point, Greenwald vented over what he saw as a political bias in Christopher's line of questioning.


Christopher pressed, eventually resulting in Greenwald reaffirming his statement on All In, that Snowden should be charged with a crime of some sort:

Christopher bristled at the name calling, yielding to Greenwald confessing that he had let his frustration get the better of him:


At this point, the pair thanked each other for their engagement:

Christopher left the conversation with some follow up questions for Greenwald that went unaddressed.


> >Follow Noah Rothman (@NoahCRothman) on Twitter
Have a tip we should know? tips@mediaite.com