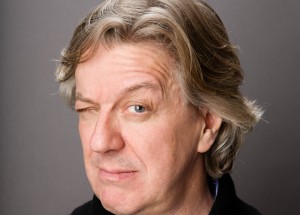 At first, Fred Graver's Wikipedia page looks like it's a joke, just because it's so awesome: writer for Late Night With David Letterman, Cheers, and In Living Color, co-Editor in Chief of National Lampoon, creator of VH1's Best Week Ever, author of a Choose Your Own Adventure book, and owner of an email address that dates back to 1985. But then you sit down with him, and you realize it's all so very true, as he starts whipping out mini-anecdotes about his mingling with Johnny Carson's writers, or hearing the hum of an early modem that a doctor was using almost 30 years ago.
Graver is now the man behind When Media Collide, a blog that he runs on FredGraver.com. The site chronicles "creatives," or, in Graver's words, "the people who make stuff on TV, on the web, on the devices we hold. I'm interested in how they'll continue to make a living, how they'll continue to do good work, and what constitutes really good media and storytelling."
If anyone would have an idea on the cutting-edge marriage between the digital world and the entertainment industry, it's Graver. He's been hooked on the possibilities of the web since he first heard the scratchy sounds coming from a modem at a friend's house in the 1980s. He can recall what it was like to rifle through the options of the early bulletin boards, and their progression from The WELL to CompuServe, Prodigy, and Mozilla. In the 1990s, he was chosen to join a group of consultants for Disney, tasked with figuring out how to best weave their content into digital technology that wasn't even fully imagined or developed yet.
"The things they were talking about at the time," Graver says, "they were absolutely right about. We had to do these presentations to the Disney board, who were wowed by the fact that you could watch a TV show and order what the person was wearing [at the same time]." Graver and his group envisioned someone walking into a room with a device, and having the screen recognize you with a "hello." It had your favorite shows, who was watching them, and bits of news ready for your consumption. "It was like a refrigerator door," of options, Graver explains.
His background in writing indirectly helped him prepare for the varied choices the web presented, going all the way back to his Choose Your Own Adventure book. He was friends with an editor at Bantam, "and they could not get enough writers to keep writing those books," Graver says. So he undertook the task of helming one, creating decision trees and mapping out scenarios. "The hard part was trying to make every step interesting, because you didn't want to just say, 'You walk into the cave and then go to the left or the right.' Something has to happen in the cave." Figuring out the options paid off when he joined the writing staff at Late Night With David Letterman, especially when Letterman went outside to tape improv-type pieces. "This was before Dave got famous," Graver says. "He could go out in the street and people didn't know who he was."
The writers would map out a set of scenarios for Letterman, so he'd be semi-prepped for any response he got from the people he talked to. After seven years with Late Night, Graver left to work for Norman Lear, then, a year later, took a writing job with In Living Color. "They shot and wrote a lot more than what got on the air," Graver reveals. "We probably wrote five times as much and probably produced three times as much stuff as you actually saw. Say you had Jim Carrey doing Fire Marshall Bill. What you saw on TV was a three-minute bit, and he'd tape 20 minutes." The staff would have to throw sugary snacks to the audience to keep them alert for the marathon taping sessions.
Eventually, Graver found his way to MTV, where he came up with the idea, among others, for Best Week Ever ("It started as a joke," Graver explains, saying that he suggested I Love Last Week as the next in the series of I Love The 80s and I Love The 70s specials they were producing) which, in a way, was really a blog for TV. All of the stops along the way — from the writing being valued on Cheers to the idea of over-producing things and then chopping down to the real quality parts of In Living Color, have contributed to When Media Collide. Including, yes, the Choose Your Own Adventure book.
"I didn't want to have this sense that I'm going to tell you how it's going to be," Graver said. "I don't know the answers. I have a lot of questions." He also has a huge amount of experience creating things that millions of people have enjoyed. So it seems natural that he wanted to explore the world of creators. "There's this business deal, this distribution deal, this company working with social media. 'We aggregated x number of likes, we had this many people on our page,'" Graver says. "And I want to ask, 'What are they liking and why? What are they sharing with each other and who made it?' To me, that's the interesting question, those are the fun stories."
Graver says the plan for now is to post as often as he can and to not hire any other writers. He says he doesn't want to get into the race of finding the latest news and putting it up first. Instead, he just wants to post and write on things that catch his attention, or that others will find interesting. He has everything from an interview with two men who are blazing a trail in on-demand media to an analysis of Louis C.K.'s decision to sell his comedy special online. But expect the posts to start coming faster and with more fury as he gets into a rhythm on the site. Graver has accrued a metric ton of knowledge over the years, and he's eager to share.
"I kind of want to get what I know about this stuff," he says, "onto a screen somewhere."
Have a tip we should know? tips@mediaite.com