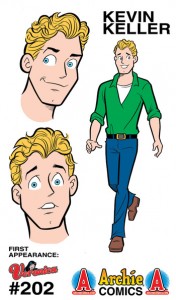 Conservative media watchdog Newsbusters notes that Archie Comics is promoting the introduction of Riverdale's first openly gay character. I know what you're thinking, but Reggie doesn't count. It says openly gay.
In what is perhaps a sly nod to the cluelessly repressed world of Archie's hometown, new guy Kevin Keller catches Veronica's eye by demonstrating how much beef he can shove in his mouth. Seriously. Does this give Archie some street cred, or does it still mainly exist to bolster Aquaman's case in lamest-comic-evar debates?
First of all, let me state for the record that I would wallpaper my house with Archie and Aquaman comics before I'd ever read a Superman comic. Here's the synopsis to every Superman comic ever: Wake me up when the Kryptonite gets here. Super-lame.
Having said that, Archie Comics is to be commended for this move, which CEO Jon Goldwater says is "about keeping the world of Archie Comics current and inclusive."
They'll need to expand on this pretty quickly, though, or Kevin is going to be mighty lonely. Perhaps he'll get a "Betty and Veronica" of his own.
His introduction occurs in issue #202 of Veronica, with the following subtext-laden premise:
Kevin Keller is the new hunk in town and Veronica just has to have him. After Kevin defeats Jughead in a burger eating contest at Pop's Chocklit Shoppe, she desperately latches onto him. Mayhem and hilarity ensue as Kevin desperately attempts to let Veronica down easy and her flirtations only become increasingly persistent.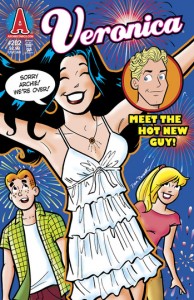 In addition to Kevin's introduction, the cover of Veronica #202 also features the titular bad girl in what appears to be lingerie, surely a selling point, even if it is from the 70s.
Even though Archie Comics might not exactly be on everyone's radar, their website boasts impressive accomplishments like "#4 iPad book app and most downloaded comics on iTunes," (who knew Archie fans were so tech-savvy?) which means that a move like this isn't without the risk inherent in tampering with any successful formula. I imagine, though, that they wouldn't have made a move like this if they hadn't gotten considerable positive feedback in advance.
Surely, there will be some who will declare this another shot in the culture war, but my feeling is that when you lose Riverdale, the war is already over.
The issue goes on sale September 1, 2010 in comics shops, and on newsstands September 14.
Have a tip we should know? tips@mediaite.com