Rush Limbaugh Brushes Off Claims Of Inciting Violence As "Self-Serving Nonsense"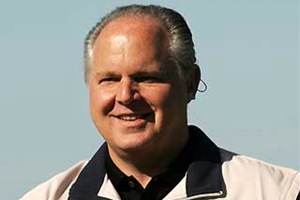 Something about Joe Klein's sedition claim against Glenn Beck and Sarah Palin has struck a very deep chord with conservatives. Although Palin herself hasn't responded, Beck has reacted with calm but passionate reiterations of his love for America, which even garnered him some tender reinforcement from Bill O'Reilly. Rush Limbaugh shot back at the criticisms in a WSJ op-ed this morning, calling the claims "self-serving nonsense."
While Limbaugh was not an original member of the Beck/Palin sedition team, John Heilemann added him to the mix, and the subsequent comments from former President Bill Clinton assumed that Timothy McVeigh was partially influenced by '90s conservative talk radio. Dismissing the claims that right-wing angst can lead to violence, Limbaugh argued that it was protesters on the left that are problematic: "We're used to seeing leftist malcontents take to the streets. Sometimes they're violent, breaking shop windows with bricks and throwing rocks at police… Not all leftists are violent, of course. But most are angry. It's in their DNA." He also continued his line of attack from last week, throwing the Oklahoma City hot potato back at Clinton with the Waco tragedy.
He was not completely on the offensive though, reiterating his love of country in the collected manner Beck brought to his program throughout the week. What was wrong, he argued, with simply asking questions and wanting to keep the country on the right track?:
Like the millions of citizens who've peacefully risen up and attended thousands of rallies in protest, I seek nothing more than the preservation of the social contract that undergirds our society. I do not hate the government, as the left does when it is not running it. I love this country. And because I do, I insist that the temporary inhabitants of high political office comply with the Constitution, honor our God-given unalienable rights, and respect our hard-earned private property. For this I am called seditious, among other things, by some of the very people who've condemned this society?
To what degree this measured response to the claim is a source reaction from the original attacks on the right or a response to Beck's successful attempt at displaying vulnerability ("like a horse stepped on my chest") and resilience ("I love my country," etc) before the attacks is unclear, though this seems to be the new mode of muted attack the right will adhere to as liberals become more aggressive.
Have a tip we should know? tips@mediaite.com