Megyn Kelly's Husband Names Names on Reporters 'Doing the Bidding' of Fox News PR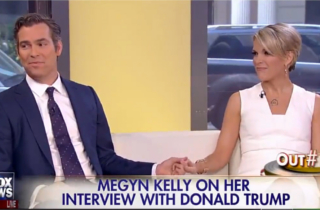 Well, the cable news wars are alive and well. And today's latest battle sees the former Fox News host Megyn Kelly hit her former employer hard from a 30 Rock NBC studio she now calls home, and now her husband, writer Douglas Brunt, entering the fray.
Some context: Kelly opened her show by delivering a biting and powerful monologue in response to the bombshell New York Times report on Bill O'Reilly's massive $32 million settlement with Fox News analyst Lis Wiehl over sexual harassment allegations. Kelly emphasized the enormous settlement payout made by O'Reilly to Wiehl, the analyst who reportedly accused the anchor of "repeated harassment, a nonconsensual sexual relationship and the sending of gay pornography and other sexually explicit material to her."
Kelly specifically called out what she called the "publish shaming" at the hands Fox News Media Relations department, saying: "At Fox News, the media relations chief Irena Briganti is known for her vindictiveness. To this day she pushes negative articles on certain Ailes accusers, like the one you are looking at right now."
It was that amidst these allegations, Kelly's husband Brunt has entered the fray, tweeting the following:
Who has been doing the bidding of Irena Briganti? @TheLloydGrove @EWagmeister

— Douglas Brunt (@DougBrunt) October 23, 2017
It seems that Brunt is suggesting that Fox News promotional engine has favorable relationships with both Lloyd Grove (who writes for The Daily Beast) and Elizabeth Wagmeister who writes for Variety and is a contributor to 21st Century Fox owned, Page Six TV. Grove recently wrote of "panic" inside NBC over Kelly's new show, and  Wagmeister recently reported that Kelly's show was struggling to book celebrity guests. Brunt seems to be saying those stories were published at the behest of Fox News PR. Mediaite has reached out to Fox News for comment about this suggestion and will update if we hear back.
Brunt is a NY Times best-selling author, so his words should not be dismissed as just those of a protective spouse. He is as media savvy as they come and knows from experience exactly how the world works when it comes to the transactional relationships that PR departments sometimes engage in with media outlets.
UPDATE: Grove has responded to Brunt's allegations via Twitter, saying:
Not me Doug. https://t.co/lQmAy8E9gf

— Lloyd Grove (@TheLloydGrove) October 23, 2017
And now Wagmeister follows up:
I've never met or spoken to Irena. I reported a tough but fair piece. And I applaud Megyn for speaking against sexual harassment today. https://t.co/bktbro4iu3

— Elizabeth Wagmeister (@EWagmeister) October 23, 2017
Have a tip we should know? tips@mediaite.com