Michelle Obama Heckler Defends Protest: Obama 'Maxed Out' Our Contributions, He Should Max Out Our Civil Rights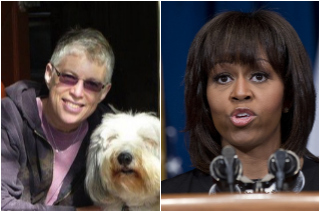 "As a gray-haired, 56-year-old lesbian, I don't have time to wait another generation for equality," Ellen Sturtz, most recently seen heckling Michelle Obama at a fundraiser, wrote in the Washington Post on Saturday. "Being polite hasn't gotten us any closer to it becoming a reality."
Sturtz said she contributed to Barack Obama's 2008 campaign largely based on promises he made to end workplace discrimination against gay, lesbian, bisexual and transgender individuals. Five years later, Sturtz said Obama had reneged on those promises.
She "blurted out" her comments after the First Lady spoke about the urgency of helping gay children, a cause which Sturtz feels is actually being neglected by the Obama administration. She wrote:
Some have said that the first lady wasn't a proper target because she is not an elected official. However, time and again, the first lady has come to our community and asked us to "max out" on our contributions to the DNC. In fact, she had just made the same request of several hundred LGBT attendees, days after Senate Democrats had refused to include same-sex binational couples in their immigration reform bill. Despite the Democratic Party happily cashing LGBT checks, I have not seen the Obama administration "max out" on the myriad ways that the government could protect the LGBT community.
Sturtz acknowledged that "Mrs. Obama has accomplished extraordinary things" and "understands injustice at a deep level, and it was that political conscience I was hoping to stir at this week's fundraiser." But she said she could no longer remain silent on a subject that so deeply affected her and many others.
Watch the incident below, via CNN:
Read the entire editorial here.
[h/t The Washington Post]
—
>> Follow Evan McMurry (@evanmcmurry) on Twitter
Have a tip we should know? tips@mediaite.com