Mike Huckabee Mocked For Posting Pictures of Himself to 'Salute' Annapolis Shooting Victims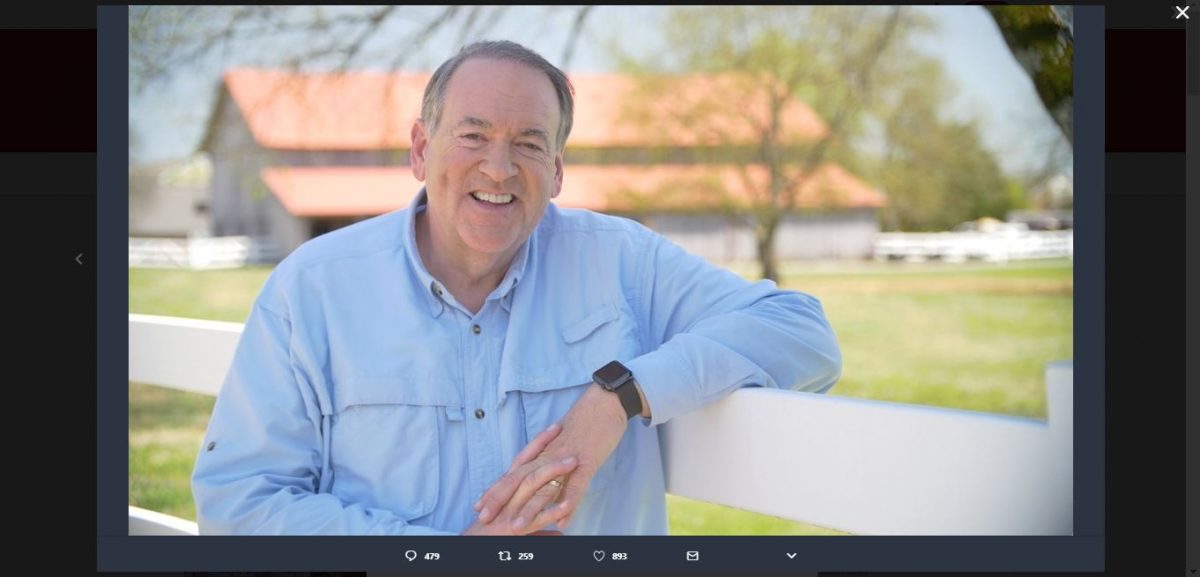 In light of the Annapolis, MD newsroom shooting that took the lives of five people, many have responded by donating to the victims, supporting the newspaper via subscription purchases, and advocating for measures to curb gun violence.
But not Mike Huckabee. He, instead, decided it was the perfect time to share photos of himself.
The former Arkansas governor took to Twitter today to praise the Capital Gazette for releasing a paper the day after the shooting, but — in a bizarre Huckabee-ism — he also included two of his own portraits where he can be seen leaning up against a fence, gazing into the camera, and flashing his pearly whites.
A big salute to the staff of the Gazette, who despite being traumatized and losing staffers to death and injury, vowed that the next day's edition would come out, and they worked at home and got it out.https://t.co/KTvxSuVFVL pic.twitter.com/dVJ7cpH9S9

— Gov. Mike Huckabee (@GovMikeHuckabee) June 29, 2018
Respondents to the photo couldn't quite figure out what the hell Huckabee meant by including his own photos — was this same kind of grossly timed dad-joke? Is he trying to approvingly smile at the shooting victims? Is this a Huckabee thirst trap?
No answers were given by the former GOP presidential candidate, but almost everyone who commented on the photo agreed that Huckabee is a "deeply weird man."
Check it a few of the Twitter personalities who mocked Huckabee for the insanely strange social media stunt:
In this time of tragedy, let's take a moment to determine how hot you are.

— David Iserson (@davidiserson) June 29, 2018
this is the conservative equivalent of the instagays who took shirtless selfies of themselves with the eiffel tower painted on their chest after the paris attacks pic.twitter.com/gryxIjuRfp

— David Mack (@davidmackau) June 29, 2018
Governor, thank you as always for all the work you do on here. pic.twitter.com/DMqNZWf4iI

— David Roth (@david_j_roth) June 29, 2018
You are a deeply weird man

— erin ryan (@morninggloria) June 29, 2018
You are a really bizarre person.

— Leslie Grossman (@MissLeslieG) June 29, 2018
r u ok

— marisa kabas (@MarisaKabas) June 29, 2018
what the actual fuck dude

— Bradley Stern (@MuuMuse) June 29, 2018
— aída chávez (@aidachavez) June 29, 2018
— Ben Collins (@oneunderscore__) June 29, 2018
mike huckabee is back on my good graces with the shameless double thirst trap on twitter. very cool!

— Hasan Piker (@hasanthehun) June 29, 2018
everyone's roasting huckabee for this but what's wrong with loving your body pic.twitter.com/iSDI7qiFOn

— Ken Klippenstein (@kenklippenstein) June 29, 2018
nothing eases the pain of senseless death like mike huckabee in binocular vision https://t.co/T8RkUvFasM

— Kilgore Trout (@KT_So_It_Goes) June 29, 2018
You forgot to add the Smokey Eye filter! pic.twitter.com/NjWCnFnSqs

— Chibi Lexenstar (@ChibiLex) June 29, 2018
[image via screengrab]
Follow the author on Twitter (@calebecarma).
Have a tip we should know? tips@mediaite.com