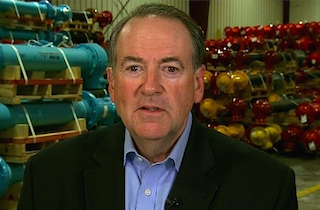 Amidst conservative outrage over a series of undercover videos shot at Planned Parenthood clinics, GOP presidential candidate Mike Huckabee announced during an Iowa campaign stop on Thursday that he would not rule out the use of federal troops and the FBI to stop American women from receiving abortions.
The Topeka Capital-Journal reports:
In response to a question from the audience at the Pizza Ranch in Jefferson, Iowa, Huckabee said he would "invoke the 5th and 14th amendments for the protection of every human being."

Both amendments contain due process protections against depriving people of life without due process of law.

"Would that be a huge controversy?" the former Arkansas governor asked. "Yes."

But he argued that scientific advancements have now verified that unborn babies are human beings — information he said wasn't necessarily available when the Supreme Court issued its 1973 Roe v. Wade decision.

"I will not pretend there is nothing we can do to stop this," Huckabee said at the event, where a Topeka Capital-Journal correspondent was present.
At a stop later in the day, Huckabee answered a specific question about the use of troops and the FBI by saying, "We'll see if I get to be president."
RELATED: Lindsey Graham Jokes: I'd Use the Military to Force Congress to Reverse Defense Cuts
Evidently, that question came courtesy of Rolling Stone's Matt Taibbi:
Iowa, I just asked Huckabee if that meant he would send the FBI or the National Guard to close down abortion clinics. He said:

— Matt Taibbi (@mtaibbi) July 30, 2015
"We'll see when I'm president."

— Matt Taibbi (@mtaibbi) July 30, 2015
Asked: would he send FBI/National Guard to shut down abortion clinics, Huckabee says, "We'll see when I'm president." pic.twitter.com/wSav4ZmgV6

— Matt Taibbi (@mtaibbi) July 30, 2015
Taibbi later elaborated on Huckabee's argument:
Huckabee's argument is that the unborn are people and therefore entitled to die process and equal protection.

— Matt Taibbi (@mtaibbi) July 30, 2015
Huckabee said he would protect the unborn the way he would protect citizens "in an embassy in Benghazi" or "on the front lines of a war."

— Matt Taibbi (@mtaibbi) July 30, 2015
[h/t Huffington Post]
[Photo via screengrab]
— —
>> Follow Matt Wilstein (@TheMattWilstein) on Twitter
Have a tip we should know? tips@mediaite.com