Million Dollar Historian Newt Gingrich Compares Virginia Ballot Failure To Pearl Harbor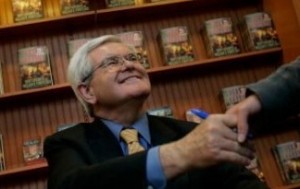 The Newt Gingrich campaign is taking their candidate's failure to get on Virginia's Republican primary ballot hard. In a Facebook post late last night, Michael Krull, the national campaign director for the histrionic historian, told supporters "Newt and I agreed that the analogy is December 1941: We have experienced an unexpected set-back, but we will re-group and re-focus with increased determination, commitment and positive action."
Maybe he should have chosen something else he managed to avoid, like the Vietnam War.
RELATED: Ron Paul Trashes Newt Gingrich Over Vietnam: 'He Chose Not To Go, But He Will Send Our Kids To War'
The campaign's statement combines the bombast of his campaign's tendency for overwrought statements, and the candidate's own ham-fisted history of trivializing exactly this moment in history.
Last year, Gingrich used the occasion of Pearl Harbor Day to plug his books on Twitter, when he chirpily tweeted, "The 69th anniversary of the japanese attack is a good time to remind folks of our novels pearl harbor and days of infamy newt."
Gingrich later deleted the tweet without explanation.
RELATED: Newt Gingrich Uses Pearl Harbor Anniversary to Plug His Books – Update: Book Plug Deleted
Earlier this year, when Gingrich came under fire for criticizing GOP it-boy Paul Ryan, a spokesman released a statement that read like a press release form the PR firm of Francis, Scott, and Key. "…out of the billowing smoke and dust of tweets and trivia," the statement read,  "emerged Gingrich."
The best part of this newest bit of self-delusion is that, according to Krull, it was apparently the result of considerable brainstorming:(emphasis mine)
Newt and I have talked three or four times today and he stated that this is not catastrophic – we will continue to learn and grow. Remember that it was only a few months ago that pundits and the press declared us dead after the paid consultants left. They declared that the decision not to compete in the Ames Straw Poll would mean that Iowans would ignore us. Some will again state that this is fatal.

Newt and I agreed that the analogy is December 1941: We have experienced an unexpected set-back, but we will re-group and re-focus with increased determination, commitment and positive action. Throughout the next months there will be ups and downs; there will be successes and failures; there will be easy victories and difficult days – but in the end we will stand victorious.
I'm wondering how the rest of that spitballing sesh went. Did they spark up, sit around, and go "Dude, you know what this is like? It's like…it's like the Hindenburg!"
"No, no, no, you're like Jesus, and Virginia is like Pontius Pilate. And Ron Paul is Benedict Arnold!"
"Due, who let Michele Bachmann in here?"
All joking aside, this is a pretty offensive analogy. Thousands of Americans died in the attack on Pearl Harbor, and unlike Gingrich's filing deadline, they didn't know it was coming. Failure to get your shit together on time does not equal heroism.
Have a tip we should know? tips@mediaite.com