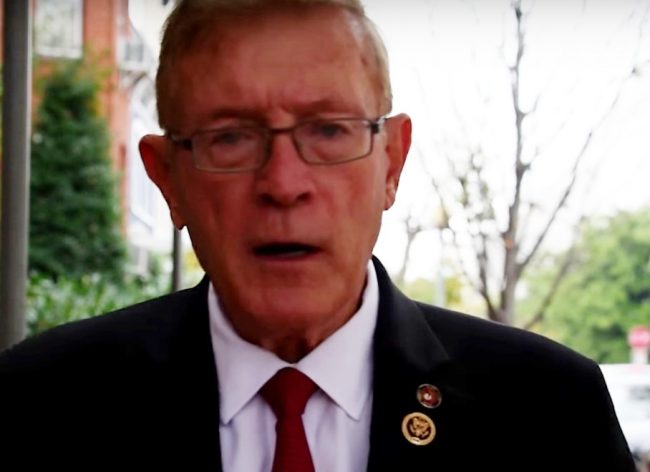 In the past few weeks, town halls have become a very big deal. No, really. People are showing up to speak to — and yell at — their representatives in person and they're doing it in numbers that are leaving political observers stunned.
Some officials are brushing off the anger. Some are insisting that the attendees must be paid agitators. Others, however, just aren't showing up to be spoken to by the people who elected them as representatives. Congressman Paul Cook of California is one of those who hasn't scheduled any town halls and, judging by the following display, some of his constituents are very worried about him.
Reports of these milk jugs spotted in local stores all over the 8th district #WhereIsPaulCook @RepPaulCook @VVDailyPress pic.twitter.com/RsVLAgCw9n

— Where Is Paul Cook (@WhereIsPaulCook) February 20, 2017
Yes, those are "missing" stickers with Cook's face plastered to milk cartons.
Here's what the description at WhereIsPaulCook.com says:
For weeks, constituents in CA's 8th district have asked Rep. Paul Cook to hold a town hall to explain his policy positions. His repeated failure to schedule a town hall points to one, unavoidable conclusion: Congressman Paul Cook is missing. Help us find him. #WhereIsPaulCook
The site features a photo of the congressman taken on February 11, at an event where, and we quote, "it appears that the Congressman did not have cell service at the event. As a result, he was unable to check the numerous e-mails and voicemails that his constituents had left requesting a town hall."
You can even join a search party (aka a progressive local advocacy organization) thanks to a link on the site.
If and when Cook resurfaces and hosts a town hall, we will let you know.
[image: screengrab]
Have a tip we should know? tips@mediaite.com