Report: Mitt Romney Has Raised Far More Wall Street Money This Year Than Obama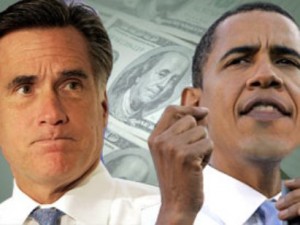 As Occupy Wall Street continues to protest the big financial institutions, presidential candidates continue to court them for money in order to run their campaigns. In the last election cycle, President Obama collected more money from Wall Street than John McCain. Which candidate has been raking in the most money from Wall Street so far? Mitt Romney.
According to The New York Times, the sometimes Republican frontrunner has so far raised more money from big Wall Street donors than the president. Whereas Obama raised over $1 million from Goldman Sachs in 2008, so far they have donated $45,000 to his reelection campaign while giving $350,000 to the Romney campaign.
RELATED: President Obama Raises More Than $70 Million In Third Quarter
Clearly, whatever Romney is saying must be resonating with Wall Street. So what exactly is it?
"There's no doubt that Governor Romney has raised money off of his belief that Wall Street should be allowed to write its own rules again by repealing Wall Street reform," said Ben LaBolt, an Obama campaign spokesman. "The president put in place protections to ensure that the financial crisis is not repeated and that unacceptable risks aren't taken with Americans' life savings."

For his part, Mr. Romney is now pitching himself as the turnaround expert for an ailing national economy. He has personally wooed major Wall Street donors, successfully recruiting several senior financial executives poised to back Gov. Chris Christie of New Jersey had he opted for a White House bid.

But anger at big banks — manifested by the growing Occupy Wall Street protests in New York City and elsewhere — is palpable enough that Mr. Romney must avoid being seen as a friend of an industry that many Americans blame for onerous bank fees and underwater mortgages.
Meanwhile, fellow Republican contender Rick Perry has raised roughly $17 million in total, 60 percent of which came from loyal Texas donors. The rest of the Republican candidates are far behind in the amount of money they have raised, with Ron Paul totaling $8.3 million and Herman Cain raking in over $2.8 million in the same period.
Have a tip we should know? tips@mediaite.com
Josh Feldman - Senior Editor